1944 M44 Mosin Nagant Carbine
(Mfg. by the Tula Arms Factory)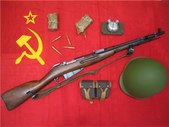 (Click PIC to Enlarge)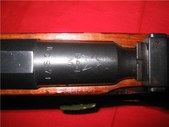 Originally Posted by :
Caliber: .......................7.62x54R
Barrel Length: ............. 20 in. (508mm)
Rifling: ........................ 4 groove, right hand twist, 1:9.5"
Overall Length: ........... 40 in. (1016mm)
Weight: ....................... 7.62 lbs (3.46Kg)
Magazine capacity: ...... 5 rounds.
Qty mfg: ..................... Approximately 7.61 million at Izhevsk and 100,000 at Tula (according to mosinnagant.net)
Sources: The Mosin-Nagant Rifle by Terrence Lapin, ISBN: 1882391217, mosinnagant.net
1944 M44 Mosin Nagant Carbine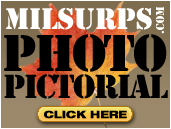 (19 picture virtual tour)
Observations: (by "Claven2")
Note: Pics of rifle provided courtesy of Milsurps.com moderator Claven2.
By the fall of 1942 Soviet forces were engaged in a series of protracted actions centered around urban areas on the eastern front, the most notorious of which is perhaps the battle of Stalingrad. Actions like these were proving that carbine length arms such as the model 1938 (
karabin obrazets 1938 goda
in phonetic Russian) and the M1907 Mosin Nagant carbine were much better suited to the ensuing street to street and house to house fighting which was characterizing this urban warfare. The older M1891/30 rifle, while still useful, was not ideally suited to the new tactics being developed and employed, and the M1938 carbine's lack of a bayonet was also considered a weakness. In 1943, The Izhevsk Arms Factory completed 50,000 new carbines to address these concerns. Essentially The Model 1944 (
karabin obrazets 1944 goda
in phonetic Russian), or M44 as it is widely known, was a model 1938 carbine with a non-detachable folding bayonet added to it. The new carbine was well received by soldiers at the front. This new carbine was not to be a secondary issue arm for the artillery, signal corps and other rear area troops. For the first time, the Soviet Union would issue a carbine length rifle for front line service alongside the ubiquitous model 1891/30 infantry rifle. This would be the high water mark for the model 1891/30. Production of the full length rifle began to decrease almost immediately, fully ceasing in 1945. The M44, on the other hand, would go on to be manufactured at Izhevsk until 1948, well into the post-war years. It would later be built in great numbers by Hungary, Poland, Romania and China. NATO troops would face these carbines in Korea and they would also characterize the early years of the Vietnam war as well as countless other conflicts throughout the world. US troops even captured quantities of actively issued M44's in Grenada in 1983, fully 40 years after the first M44 was manufactured.
Soviet M44's were built both at Izhevsk Arsenal and at Tula Arsenal. Tula manufactured only 100,000 units - all in 1944. Izhevsk, on the other hand, manufactured over 7.61 million of these weapons with most production ceasing in 1948.
Most of these carbines will have the typical late-war round type receiver. Tula's production, however, commenced just as Tula was relocating back to their original location (the factory had been mover earlier in the war in the face of Nazi advances). Older receivers, presumably from battle damaged rifles, were sometimes used to supplement production. The same phenomenon is also encountered, albeit a little less frequently, on Izhevsk made M44's, typically in 1945. Again, it is assumed these were scavenged from older M91's and M91/30's damaged in the war since by 1945 production of M91/30 rifles had ceased. It can be surmised the Soviets felt that rifles with significant damage were better utilized as a source of receivers in production of the current issue M44.
Whatever the reason or motivation, it is clear that M44 carbines with hex receivers, or older recycled round receivers (will be evident by the date underneath the receiver tang) are rare and are prized collectible mosin nagants.
Collector's Comments and Feedback:
1.
The depicted rifle was manufactured at the Tula arms factory in 1944. The receiver is an older Hex type receiver recycled into M44 production, a rare feature. Both the receiver tang date and barrel date are 1944 and there is no evidence that an earlier date was scrubbed from the tang. It is likely that this receiver was one of the types that did not get marked with a date on the underside such as a Remington or early Chatellerault. Remington is the likely original manufacturer as there is an R stamp on the side of the tang (see pics).
It is interesting to note that the wartime M44 stock is inletted for a stepped tang receiver at a time when stepped receivers would not have been made in at least three years. It's easy to surmise that some stocks were made specifically for these earlier stepped tang receivers being used up in M44 production in 1944 and 1945. This particular stock is clearly wartime with the CCCP roundel mostly intact, the lack of rear band removal grooves in the stock and the unlined rear sling slot.
The bayonet lug is a contemporary single-lug unit and is Tula marked. It is most likely the original bayonet assembly. The floorplate is cancelled and renumbered, the buttplate is electropencilled matching and so is the bolt. It is possible that this carbine is refurbished, though it retains deep rich blue and has no refurbishment markings. It is also possible that it was assembled this way when new in 1944. Due to a lack of refurb markings it it now impossible to tell if Tula used any electropencil markings in 1944. It is known that Tula used many parts from Izhevsk and recycled older parts off damaged rifles during their 1944 M44 production run though, and this carbine exhibits those traits.
Collectors should be on the lookout for any M44 with a hex receiver and also any M44 manufactured at Tula. The rarest M44's are those made for trials in 1943. Such a carbine will be of Izhevsk manufacture and have a round receiver. 1947 was the next rarest year of manufacture, and many collectors remark on the difficulty of obtaining the "rarest three" M44 carbines, those being a 1943 Izhevsk, a 1944 Tula and a 1947 Izhevsk.
Finally, any carbine with a Finnish SA capture stamp should be recognized for the rarity it represents. The Finns captured only around 3000 M38 and M44 carbines in their wars with Russia. Most of those would have been M38's, so an SA marked M44 is truly a rare item that will see a dramatic increase in value.
As with all Mosins, those which are not import marked will command a small premium. Unlike M38's, it is not uncommon to encounter M44's without a counterbored barrel. While I personally do not feel a counterbore on any Russian carbine should affect value, be aware that if you would prefer to avoid a counterbored M44 then a non-counterbored example should be relatively easy to locate - unless you are looking at an already rare variant. M44's will be encountered both with stamped and electropencilled serial numbers. It will be a personal decision for the collector to decide if this will affect value or not. On a rarer piece, it will most certainly not be a large factor in my experience.
.... (Feedback by "Claven2")