1917 ShtLE (Short Lee-Enfield) No.1 MkIII*
(Mfg by BSA - Birmingham Small Arms)
(Click PIC to Enlarge)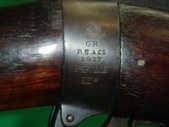 Caliber: ....................... .303 in., Mk VII Ammo
Rifling & Twist: .............. 5 Groove, Enfield, Left Hand Twist
Barrel Length: ............... 25.2 in (640 mm)
Overall Length: ............. 44.5 in (1130 mm)
Weight: ........................ 8.6 lb. (3.9 kg) (unloaded)
Magazine Capacity: ....... 10 rounds (magazine loaded)

Source: ........................ The Lee-Enfield Story by Ian Skennerton (1993) - ISBN: 185367138X

Canadian Market Value Estimate: $
1917 No.1 MkIII* Rifle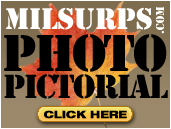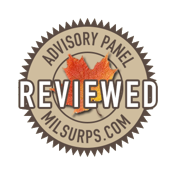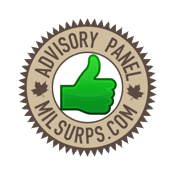 (137 picture virtual tour)
Observations:
Note: Pics of rifle provided courtesy of MILSURPS.COM member ~Angel~.
Check for "all matching" serial numbers underneath the forestock, on the nose cap, rear sight, receiver, barrel and bolt handle. The rifle shown in the virtual tour is correctly
serial number matched
and in addition, is equipped with a very rare
Flanders Flap
. This flap was designed to keep the mud out of the barrel, but was spring mounted so it could easily be opened, or flip out of the way if the soldier accidentally discharged his rifle without opening it.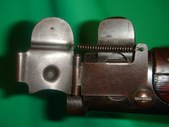 (Click PIC to Enlarge)
According to Ian Skennerton's research on S.M.L.E. muzzle protectors,
"Great war makers are listed as being J. Purdey & Sons, A. Purdey, M. Myers & Son Ltd. and C. Brandauer & Co. Ltd. during 1915. There is no doubt that orders continued during 1916-1918 with the distinct possibility of other new suppliers as well. Not all these muzzle protectors were the sheet steel type as unit prices ranged from tuppence ha'penny (2.5 pence) for 10,000 from A. Purdey, to 1/3d on 50,000 from J. Purdey & Sons, to 10/- on 100,000 from Brandauer and 8/- each on 100,000 from Myers. It would seem that the Brandauer and Myers manufactured protectors were 'Flanders flap' types while the less expensive models from A. Purdey and J. Purdey & Sons were also different to each other. At 2.5 pennies each, the A. Purdey protectors were likely canvas covers and Purdey & Son's offering at 1/3d would also have been quite basic affairs. The sheet steel models have also been noted in brass. War Office purchases were marked with the broad arrow upon acceptance along with the contractor's name, initials or logo."
Collector's Comments and Feedback:
1.
Note the large dent shown in the side of the forestock in a few of the pics of the photo virtual tour. At first glance it appears to be wood damage from some kind of impact, when in reality, it actually indicates that the stock of this rifle was from old supplies that had already been cut-out, in preparation for installing the front volley sight. By the time this rifle had been manufactured in 1917, the use of front and rear volley sights on No.1 rifles had been discontinued, as of January 1916.
....... (Feedback by "Badger")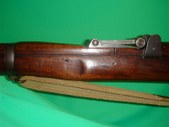 (Click PIC to Enlarge)