1943 SVT-40 Semi-automatic Rifle
(Samozaryadnaya Vintovka Tokareva)

(Click PIC to Enlarge)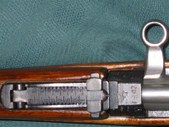 Caliber: ........................ 7.62X54r
Rifling & Twist: .............. 4 turns, right hand twist
Barrel Length: ............... 24.02 in. (610mm)
Overall Length: ............. 48.27 in. (1226mm)
Weight: ........................ 8.9 lb. (4.04Kg)
Magazine Capacity: ........ 10
Qty Mfg: ....................... "Nearly 2,000,000 rifles. With Tula and its sub assemblies producing roughly 1.7 million of those."
-- Comment by Vic (Owner/Operator Gunboards.com, Mosinnagant.net)

Source: ....................... Surplusrifle.com, Mosinnagant.net

Canadian Collector Market Value Estimate: $
1943 SVT-40 Semi-automatic Rifle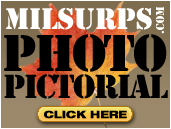 (31 picture virtual tour)
Observations:
(by "Skippy")
Note: Pics of rifle provided courtesy of MILSURPS.COM member Skippy.
The rifle shown in the picture virtual tour is an all matching 1943 Tula Svt-40. All serial numbers are matching and stamped (save for the underside of the bolt which is electro penciled but matching), and features like the flash hider and forward sling loop are of late variation (1942 and on). This would suggest that it still of original composition and was not parted together or renumbered at arsenal. The top hand guard suffered a crack which was pinned and fixed with a wedge of wood at some point by the Soviets but still sports the original serial number stamp on the underside. At some point before I came into possession of this rifle the standard 10rnd magazine was actually sawed in half to limit it's capacity to 5 rnds (in compliance with Canadian law) this is the rifle's unfortunate flaw. Overall the rifle is a very sound and accurate shooting rifle in excellent condition (considering it does not seem arsenal refinished).
Collector's Comments and Feedback:
1.
Globe Co. out of Vanier Ontario converted SVT40's to 303 british to sell them. 7.62x54R ammo was not easy to come by and at the time there was still lots of 303Brit surpless ammo.
(Feedback by "woodchopper")