Swedish AG42B Low Light Sight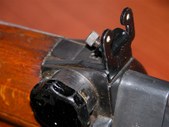 (Click PIC to Enlarge)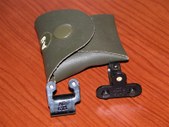 Swedish AG42B Low Light Sight (12 picture virtual tour ... click here)
Observations: by "No4Mk1(T)"
Note: Pics of sight provided courtesy of MILSURPS.COM member "No4Mk1(T)".
The sights were bought from Century Arms International just before they closed up operations in Canada.
They are no longer able to "glow in the dark" as the Tritium has expired. The case appears to be made of a rubber impregnated cloth with the "AG" applied after. The outer snap has a small leather washer under it presumably to reinforce the area to prevent ripping of the flap during opening.
The back site is marked:
AG
61H
Finished with what looks to be black paint with the mounting screw blued.
The front is marked:
Mk 1
61-J
The mounting clip is blued with the actual site painted black with a more satin finish than the back site.
The Tritium dots have turned yellow with age.
Instructions for the installation and adjustment of the sites can be found at the bottom of the
Swedish Ljungman AG-42B Manual (click here)
found in the
Sweden - Milsurp Knowledge Library (click here)
Collector Comments and Feedback: