1905 Mk II***** (5 star) Ross Rifle
(Mfg by The Ross Rifle Company, Quebec)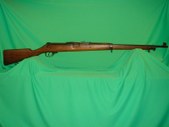 (Click PIC to Enlarge)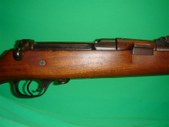 Calibre: ....................... .303 in., Mk VII Ammo
Rifling & Twist: ............. 4 Groove, Enfield, Left Hand Twist
Barrel Length: .............. 28 in. (711mm)
Overall Length: ............ 52 in. (1320mm)
Weight: ....................... 8.6 lbs. (3.9kg)
Magazine Capacity: ...... 5 rounds -> Note: Refer to notations 2 & 3 under "Collector's Comments and Feedback"

Source: ....................... The Ross Rifle Story - ISBN: 0-9732416-0-8

Canadian Market Value Estimate: $
1905 Mk II***** (5 star) Ross Rifle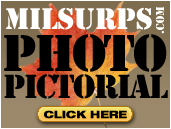 (96 picture virtual tour)
Observations: (by "Badger")
This variation is the last of the MkII series. The major change in configuration is in the rear piece of the top wood which now is flat like the MkII**. The rear sight is the Sutherland Rifle Sight Co.'s H-type Mk1. The rifle pictured in the virtual tour was manufactured in 1910 with the serial number stamped over top of a date marked 1910. The Mk II marking is stamped "50" after the "II". Oval mark is "Ross Rifle Co, Quebec, Canada, 1905 Patented".
Collector's Comments and Feedback:
1.
This rifle is a fine, 96 year old example example of the last service pattern Mk.II Ross rifle to be issued prior to the Great War. Mk. II rifles went through dozens of modifications, some obvious, others subtle. Mk. II riles were not used in active service on the Western Front. Many were used for training in Canada, others in England. Rifles which saw service in England had their chambers reamed oversize. During WW2, many Mk. II rifles continued to be used in training camps. A photograph has been seen with troops using Mk. II rifles on an obstacle course in 1944. The primary and best reference on Ross Rifles is "The Ross Rifle Story - ISBN: 0-9732416-0-8".
............... (Feedback by "tiriaq")
2.
The specs on the 1905 Ross MKII***** (five star) shown in this MKL entry, lists under Magazine that it uses five shot charger clips. I have a MKII*** and it has no charger bridge and I believe none of the MKII's had charger bridges, therefore couldn't use charger clips. So if you're going to list original specs of a MKII, it should not show that they used charger clips as they were not designed for them.
....... (Feedback by "rayg")
3.
rayg is correct with respect to the II*****, and most other Mk. II rifles. These were loaded with loose rounds, not chargers. Now, there were bridges that could accept a charger, and could be retro-fitted to Mk. II rifles, but these are the exception. MKL entry has been corrected to reflect this change.
....... (Feedback by "tiriaq")