1914 Ross Cadet
Serial # E 556
(Mfg by The Ross Rifle Company, Quebec)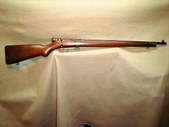 (Click PIC to Enlarge)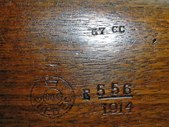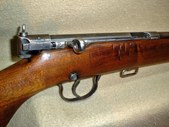 (Click PIC to Enlarge)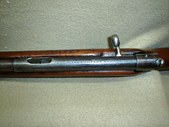 Caliber ........................ .22 Long Rifle
Rifling & Twist: ............. 6-groove RH concentric rifling, 1 turn in 14 inches
Barrel Length: .............. 21.39 in.
Overall Length: ............. 39.5 in.
Weight: ....................... 5 lbs.
Magazine Capacity: ........ 1
Number manufactured.... 17,000 (approx.)

Source: ........................ The Ross rifle story" by Roger F Phillips (1984), ISBN-10: 0969190603
1914 Ross Cadet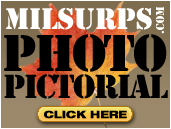 (14 picture virtual tour)
Observations: by Milsurps.com members Longbranch* and Claven2
Note: Pictures provided courtesy of MILSURPS.COM member Longbranch*
In the years leading up to WW1, Canada found itself armed primarily with the Ross M1910 rifle in .303 British. While British forces were then issued with the .303 Short Magazine Lee Enfield MkIII, their primary training rifles were the .22 Patt 14 No.2 and the No.2 MkIV* rifle converted from a .303 rifle. As this would not be representative of the .303 straight-pull Ross M1910, the Canadian government chose to contract for a straight-pull trainer made by Ross to better simulate the action of the service rifle, for training purposes.
Following prolonged development, Ross brought out the .22 Cadet and sporter rifles in 1912. Both the these used the same straight-pull action. The bolt sleeve with handle worked in a jacket extension of the receiver, into which the barrel was screwed. Barrel rifling was six-groove concentric.
The single shot Cadet and the sporter rifles were loaded by drawing back the bolt sleeve handle, dropping a cartridge through a cutout behind the chamber and then closing the bolt which guided the cartridge into the chamber. Both rifles were chambered for the .22 long rifle, but would take both long and short cartridges.
This miniature military target rifle was intended initially for the militia. The Cadet retailed on the civilian market for $14.00, though the Cadet Corps paid about $10.00 per rifle and the Militia $8.75.
Cadet manufacture started in 1912 and continued until March of 1917. The known serial number range of civillian and Cadet Corps rifles was 1,000-18,075, while Militia rifles ranged from A 81 (1913) to F 479 (1916)- Obviously this listing is incomplete.
Collector's Comments and Feedback:
None available as yet ......