Observations:
Note: Pics of scope provided courtesy of MILSURPS.COM member ~Angel~.
The scope pictured in the virtual tour is a very early 1941 Watson No.32 Mk1 scope serial # 1302 in excellent condition with original scope bracket made by Rose Bros., marked "JC" along with the original rifle serial number of A37479. Rings are matching and numbered 58 and 59. Scope adjustment dials click perfectly with range and windage markings on the dials in excellent visual and working condition. There's an interesting article posted at Snipercountry about the these scopes, titled
"Historic Sniper Scopes- A comparative Study -The No.32 Mk1" (click here)
.
Collector's Comments and Feedback:
1.
The lubricating grease originally used in the range and windage drums on these No.32 scopes often dries out and becomes very tight. DO NOT force them, as you can damage the internal components. If you need to get your No.32 scope repaired, I'd recommend sending it to the best, Mr. Peter Laidler in England. He's refurbished two of ~Angel~'s No.32 scopes, has access to any parts needed and does excellent work. His knowledge on the No.32 scope is second to none and he's authored two books on the subject.

To get a No.32 Mk1, Mk2, or Mk3 scope repaired by Peter Laidler, contact Brian Dick at BDL Ltd (click here), as they have exclusive North American rights to do all of Peter's work. If you're really interested in learning about the No.32 series of scopes, their history, evolution, repair and adjustments for shooting, I'd recommend Peter's two books below, which can also be ordered through BDL.
(Feedback by "Badger")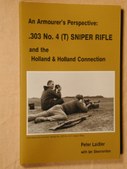 Click PIC to ENLARGE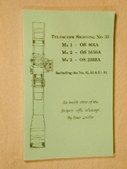 2.
The No.32 Mk1 telescope was very difficult to adjust and set zero for Enfield No.4 Mk1(T) sniper rifles. To do this, each No.32 Mk1 scope was issued with a special tool, which consisted of a double "T" handle wrench to adjust the elevation and windage dials. The No.32 Mk1 Sight Adjusting Tool in the pictorial virtual tour, was manufactured by contractor S261 (stamped on tool), which was the number assigned to Rex Meters Ltd., Kingsbury Works.
(Feedback by "Badger")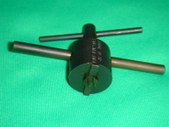 Click PIC to ENLARGE