1941 MkIII British WWII Military Prismatic Marching Compass
Serial No 89C338
(Mfg by T. G. Co. Ltd, London)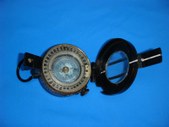 (Click PIC To Enlarge)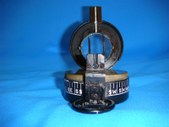 Material: Black painted brass
Size: 3 1/4" x 2 1/4" x 1 1/4"
Weight: 9 1/2 oz.
Needle: Jeweled, (originally) liquid-damped card
Graduation: Cardinal points; graduated in degrees, in full circle
Stop: None
Crystal: Glass

Markings:

Mk III
English Broad Arrow
89C338
1941
TG Co Ltd
Manufacturer: T. G. Co. Ltd, London
1941 MkIII British Marching Compass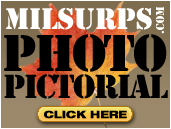 (12 picture virtual tour)
Observations:
Note: Pics of 1941 MkIII British Marching Compass provided courtesy of MILSURPS.COM member ~Angel~.
The British Prismatic Marching Compass was made of brass (painted over in black) and had a mother of pearl compass card (dial) which glowed in the dark. Originally issued to officers, it was probably one of the finest compasses in use at the outbreak of World War II. As with many military compasses it could be read in degrees or mils. As most know there are 360 degrees in a circle. There are 6,400 mils in a circle or 17.78 mils per degree. This allowed the experienced user the ability to plot very accurately using the aiming posts and prism that were attached to the compass. This compass was used with the sun compass in navigating of the vast desert.
Collector Comments and Feedback:
1.
The MkIII compass displayed in the photo pictorial was found at a local gun show. As indicated by the "Broad Arrow" marking, it's WWII British military issue and it retains most of its "painted black" appearance and is still working, although the liquid inside has long since evaporated. .........
(Feedback by "Badger")