1955 No.4 Mk2 Enfield Rifle (Still Wrapped)
(Mfg by Fazakerley)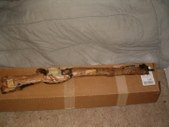 (Click PIC to Enlarge)
Observations:
Note: Observations and pics provided courtesy of Gunboards member Rob "Trebor" Reed.
This is a New in Wrap Lee Enfield #4 Mk. 2 in .303 Brit. I bought this rifle from a local gunshop in October of '05. This gun was part of a large collection sold on consignment for the estate of a collector who had died. I also got a Daewoo K2/AR 100 from the same estate.
This gun was manufactured in 1955 and was immediately placed in long term "mummy wrap." It was in war reserve storage until it was sold as surplus somewhere around 1994. The previous owner never unwraped it.
The serial # is " UF55 A101xx" (with numbers replacing the x's)
The rifle is still in the wrap. Enough was pulled away to read the serial number on the left side of the receiver. There are two tags on the wrap. One on the left side of the buttstock and one on the handguard.
Buttstock tag reads:
RIFLE No. 4 MK 2
CR. 18 GA
NORMAL BUTT
FAZ MAY 1955
NEW
Handguard tag reads:
SERIAL No. (handwritten) A 101xx (with handwritten below) UF 55
I took these pics when I first got the gun. Nothing has changed since then. I do plan on unwrapping the gun and shooting it and documenting the whole process with pictures. It's just going to be a bit of an involved project and I haven't had the time to devote to do it right yet.
A detail of the mummy wrap on the receiver. I'm torn between looking forward to unwrapping it, like a kid on Christmass morning, and dreading cleaning all the cosmo out. They were serious about preserving this thing.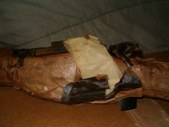 (Click PIC to Enlarge)
This tag is on the buttsock: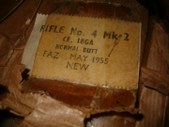 (Click PIC to Enlarge)
This one is on the handguard: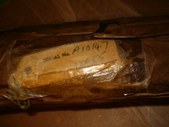 (Click PIC to Enlarge)
And finally, here's a close up of the receiver markings.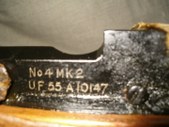 (Click PIC to Enlarge)
I paid $250 for this gun. Right after I bought it, Dennis Kroh from Empire Arms sold two identical guns from the same 1994 import lot for $550 apiece. Those had both been unwrapped already.
I am still a little torn between keeping the gun in the wrap and unwrapping it and shooting it. It is more valuable as-is and I could make a decent profit by keeping it in the wrap and selling it eventually. Everytime I think about leaving it in the wrap though, I remember that the previous owner died without ever unwrapping and fully enjoying this gun. I think I'm going to shoot it.
Collector's Comments and Feedback:
1.
Trebor's No.4 Mk2 is a fine example of mid 50's Fazakerley plant Enfield rifle production. Often these unwrapped rifles are mistakenly referred to as "Irish Contract Rifles" (contract was for 50,000 rifles). Here's some feedback about these "Irish Contract Rifles" that I've archived from various boards over the years.
..........
(Feedback by "Badger")
Posted By: kraut/Michigan
Date: Wednesday, 3 April 2002, at 4:46 p.m.

The No4 Mk2 rifles commonly referred to as Irish contract rifles were made at Royal Ordnance Factory Fazakerley, near Liverpool, England. They were never delivered to Ireland due to political problems and remained in war reserve in England until being released on the milsurp market in the 90s. The serial number range for these Irish contract rifles is PF 309348 - PF 359347. Simply put, there is nothing 'Irish' about these rifles. They were made for Ireland but never got there.


Posted By: JB White NE / Illinois
Date: Wed 7 Feb 2007 9:41 pm

If it's a blonde, beechwood stocked, No4 Mk2 and dated 1955 (UF 55 + serial number) it's from the British war reserve which was released as surplus in the early 90's. Mistakenly called "Irish Contract" since the IC was actually part of a much earlier run with a PF prefix. (Very, very few ever found their way to Ireland BTW)

They are common enough, but the debate still continues as to whether or not they should be fired. The majority of us have used ours since we feel a rifle is to be used. Fantastic shooters they are too!
2.
Here's a photo montage of member sniper-lite's No.4 Mk2 Fazakerley. Pics were taken as he went though the unwrapping process. He commented when sending us the pics, "On a side note.When I had finished opening the wrapper on the No.4 I noticed that the package has a string running through it along the under side of the rifle. I believe that once the outer paper was removed you could pull this string to open it in one fell swoop.
..........
(Feedback by "Badger")