1943 T14 Nambu Pistol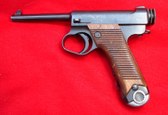 (Click PIC to Enlarge)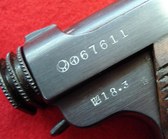 [b][size=2]Caliber: ....................... 8mm Nambu
Rifling: ........................ 6 groove, right hand
Barrel Length: ............. 4 5/8 in. (117mm)
Overall Length: ............ 9 in. (229mm)
Weight: ....................... 2 lb. (.9Kg)
Magazine capacity: ...... 8 rounds
Qty Mfg: .................. ?
1943 T14 Nambu Pistol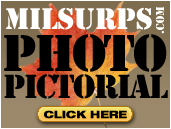 (9 picture virtual tour)
Observations:
Note: Article and pictures provided courtesy of MILSURPS.COM member "riceone"
Here is a T14 Nambu pistol made in March of 1943. It is in like new condition but I don't know if it is or was just re-furbished and never issued again. Its all matching with the cleaning rod and extra firing pin. Firing pin is a replacement as an original one would have been polished. It shoots the bottle neck 8mm Nambu cartridge.
Collector's Comments and Feedback: