Brazilian Model 1908 Mauser Rifle
(Mfg by Deutsche Waffen und Munitions Fabriken, Berlin [DWM])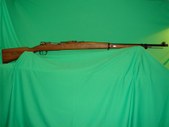 (Click PIC to Enlarge)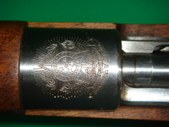 Caliber: ........................ 7 x 57mm (7mm Mauser)
Rifling & Twist: .............. 4 groove, right hand twist.
Barrel Length: ............... 29.25 in. (743mm)
Overall Length: ............. 49.13 in. (1248mm)
Weight: ........................ 8.38 lb. (3.8Kg)
Magazine Capacity: ....... 5 rounds
Qty Mfg: ....................... unknown?

Source: ........................ Mauser Military Rifles of the World (2nd ed.) (2000) - ISBN: 087341828X

Canadian Collector Market Value Estimate: $
Brazilian Model 1908 Mauser Rifle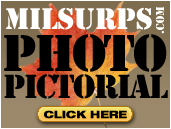 (103 picture virtual tour)
Observations: (by "Claven2")
Note: Pics of rifle provided courtesy of MILSURPS.COM member "claven2".
The Mauser Modelo 1908 long rifle became the standard infantry rifle for the Brazilian Army in 1908. The rifles were produced by DWM, then owned by the Ludwig Loewe Company. DWM, in turn contracted some rifles out to Mauser Oberndorf, which was also owned by Loewe at the time. The maker of any particular rifle can be determined by looking at the address – if Berlin, it is made by DWM. If Oberndorf, it is made by Mauser. The DWM made rifles are more commonly encountered. The contract ran from 1908 until the outbreak of war in 1914. The rifles are essentially the same as the German Gew98 with the most obvious exception being the tang style sight employed in lieu of the Lange-Vernier sight used on the Gew98. The receiver and bolt were left in the white, as was the bayonet lug. The remainder of the rifle was either chemically blued or heat blued. The stocks were made of walnut and retain the pre-1905 Gew98 style stock washer as opposed to the bolt takedown disk then in use on the German issue rifles.
Collector's Comments and Feedback:
1.
The 1908 Brazillian Mauser is, alongside the 1909 Argentine Mauser, considered to represent the very finest of pre-WW1 German arms manufacturing. The rifles were finished to the highest grade and designed to last for Generations in the service of Brazil – something they did very well. In one form or another, these rifles stayed in service well into the 1950's, though a considerable number reached the surplus market in unissued condition – presumably having been stored as war reserve material.

The best examples are often found with a serial numbered matching bayonet and scabbard and sometimes the rifles are accompanied by a sling, muzzle cover and the original DWM sighting target. The depicted rifle, however, does not have the target any longer.

It is important to differentiate between an original 1908 Mauser as depicted, and any of the later adaptations using the 1908 receiver put together from worn rifles by the Itajuba Arsenal in Brazil. Such examples command a much smaller price on the collector's market.
(Feedback by "Claven2")