1909 Peruvian Infantry Rifle
(Mfg in 1910-1914 by Waffenfabrik Mauser - Oberndorf A/N)

"All Matching Serial Numbers, except bolt (unissued rifle)"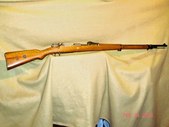 (Click PIC to Enlarge)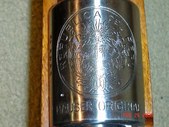 Caliber: ........................ 7.65 x 53mm
Rifling & Twist: .............. 4 groove, right hand twist.
Barrel Length: ............... 29.13 in.
Overall Length: .............. 49.2 in.
Weight: ........................ 9.0 lbs.
Magazine Capacity: ........ 5 rounds
Qty Mfg: ....................... 50,000 (1910-1914)

Source: .... Mauser Military Rifles of the World (4th ed.) (2006) - ISBN-13: 978-0-89689-296-5
1909 Peruvian Infantry Rifle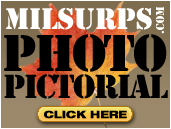 (21 picture virtual tour)
Observations: (by "Claven2")
Note: Pics of rifle provided courtesy of Milsurps.com member "Longbranch*".
Between 1910 and 1914, Peru purchased approximately 50,000 M1909 military Mausers from Mauser Werke in Germany. These purchases were ended by the commencement of the First World War as Mauser's production was entirely diverted to the German war effort.
The M1909 is, in essence, and export version of the Gewehr 98 used in the Imperial German Army. There are, however, some notable differences. The M1909 uses a bolt stop that forms part of charger guide system, similar to that found on the Argentine M1909 Mauser. The bayonet lug is designed to accept the unique S98 Peruvian bayonet. Despite being made in 1910 and later, the rifles are fitted with the earlier 1904-style heavy cocking piece. The receiver ring is slightly longer than on a standard Gewehr 98 and several features also vary slightly in dimension from the accepted G98 pattern.
Collector's Comments and Feedback:
The Peruvian M1909 is not a commonly encountered South-American Mauser variant. Additionally, most of the examples encountered will not be in unissued condition - many having seen long years of service. It is very common to encounter examples with the receiver ring scrubbed of the Peruvian crest. It is possible that this defacing took place after the longstanding power of the government (oligarchy) came to an abrupt end in the 1968 military revolution (coup).

M1909's encountered in excellent condition and bearing the original unaltered crest are a rarity and should be recognized as such by the savvy collector. Obviously, premium prices will be the norm for these unaltered rifles.
.......... (Feedback by "Claven2")