1899 M38B (M96/38) Swedish Mauser Short Rifle
(Mfg by Carl Gustafs Stads Gevarsfaktori)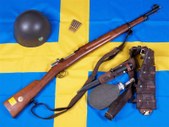 (Click PIC to Enlarge)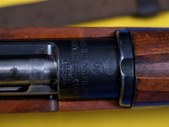 Caliber: ....................... 6.5 x 55mm .... Swedish Service Ammunition (click here)
Rifling & Twist: ............. 4 Grooves, Right Hand Twist, 1 in 7.5"
Barrel Length: .............. 23.1 in (587mm)
Overall Length: ............ 44 in. (1118mm) without bayonet
Weight: ....................... 8.5 lb (4.1Kg)
Magazine Capacity: ...... 5 round integral box
Qty Mfg: ...................... 55,080 m38's converted from M96 Long Rifles between 1937 and 1940

Source: ....................... Crown Jewels - The Mauser in Sweden by Dana Jones - ISBN: 0-88935-283-6

Canadian Collector Market Value Estimate: $
1899 M38B (M96/38) Swedish Mauser Short Rifle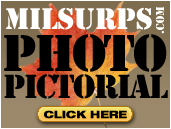 (43 picture virtual tour)
Observations: (by "Claven2")
Note: Pics of rifle provided courtesy of Milsurps.com moderator Claven2.
In 1938, the Swedish M96 long rifle had been in service for 42 years and the M94 cavalry carbine for 44 years. Despite the fact most of Sweden's European neighbors continued to deploy similar rifles, largely based on the similar Mauser 98 action, Sweden's artillery officers who controlled armaments development could not help but notice that the trend was towards a shorter, intermediate length rifle such as the German Karabiner 98k. The issue M96 long rifle, on the other hand, had more in common with the Gewehr 98 of the First World War than the sleeker and handier Karabiner. Additionally, the 1930's brought the concept of mechanized infantry to the forefront of military thinking. Troops operating from vehicles found the M96 too long and awkward to be practical, and the M94 was not available in great enough numbers given the number of weapons still required by the cavalry.
Swedish ordnance engineers came up with a cost effective alternative and in 1937 they adopted the M38 Swedish Mauser. The M38 was constructed by reconfiguring existing M96 long rifles. The barrel was shortened and the front sight base moved back to suit. The stock was also shortened and the front band spring and barrel band were accordingly moved back. The straight bolt handle was retained. Between 1938 and 1940, 55,080 M96 rifles were converted at the Carl Gustafs Stads Gevarsfaktori, and under contract at Husqvarna Vapensfabriks AB.
By the end of 1940, the Second World War was raging across Europe. The Swedish government needed all available arms in the field in order to maintain her neutrality, by force of arms if necessary. The Carl Gustafs Stads Gevarsfaktori in Eskilstuna was busy manufacturing machine guns and other weapons and so, in 1941, Husqvarna Vapensfabriks AB was given the contract to construct newly made M38 rifles instead of converting further M96 long rifles. The very first Husqvarna made M38 rifles had straight bolts, but the factory was already tooled up to make bent bolt bodies for their sporting rifles. Husqvarna asked for, and was given permission, to alter the specification and produce the vast bulk of their M38 rifles with bent bolt handles. By the end of production in 1944, Husqvarna had manufactured 65,588 new M38 rifles.
Modern collectors often refer to the early pattern converted M96 rifles as the M96/38. The Swedish military, however, made no such distinction. All M38 patterns were referred to simply as M38, regardless of manufacture or type of bolt body.
In 1941, the Swedish military adopted a new bullet for the 6.5x55 caliber rifle to replace the older round nosed M94 bullet. The new cartridge was called the M41 Torped (spitzer) round. The M38's made by Husqvarna were equipped with a new rear sight calibrated specifically for the M41 ammunition. Initially it was planned to convert the entire inventory of M38 rifles to the new pattern sight, but this initiative proved too expensive for the Swedish government. Instead, they chose to affix conversion plates to the rifles' buttstocks. The range plates came in two basic types for each pattern or issue rifle. An enameled metal plate and a water transfer decal painted over with protective shellac. Rifles sighted for M94 ammunition received a conversion plate for use with M41 ammunition, and rifles sighted for M41 ammunition were fitted with a conversion plate for use with M94 ammunition. Nevertheless, some converted M96 rifles were retrofitted with the M41 pattern rear sights but these are uncommon and most of these rifles retained their original M96 rear sights. Some M38 rifles can be found with a micrometer sight insert made of nickeled brass and manufactured by a company called Vasteras. These inserts are all calibrated for the M94 bullet and serve only to provide more accurate sight adjustment.
After World War 2, in the interest of improving sight picture, virtually all Swedish mausers had their rear sights altered from the original "V" blade to a "U" notch. Additionally, many rifles were retrofitted with a squared blade, replacing the older "inverted V" blade. Rifles designated for use during training exercises were later modified by threading the muzzle to accept a blank firing adaptor designed to shred the wooden bullet training rounds then in use. Rifles threaded for the adaptor are often referred to as "B models" (e.g. M96B, M38B, etc.). When the blank firing adaptors were not in use, the rifles were issued as normal, but with a yellow or clear nylon thread protector threaded onto the end of the barrel.
Collector's Comments and Feedback:
1.
Swedish M38 rifles are often found in excellent condition. Additionally, the rifles can generally be located with matching numbers, though fairly often the rear sight leaf may be mismatched. Premiums may be payed for rifles with intact range plates or range decals. Decals and plates were installed upside down to make reference by the shooter easier during firing. If these items are not properly installed in the inverted position, it is a clear sign they have been tampered with. Some collectors prefer rifles which do not have threaded muzzles, but whether a premium should be paid for rifles without the B modification is a personal preference issue. While most M38's are found stocked in beech, converted M96's can often be found stocked in any of the woods used on original M96 rifles. Some rifles received parts matched with electro-pencil during late refurbishment efforts. Most collectors prefer the rifles with stamped matching serial numbers.

Most Swedish mauser parts will be stamped with a crown acceptance stamp. Level crowns indicate manufacture by Carl Gustafs, while crowns tilted at a 45 degree angle indicate manufacture by Husqvarna. Additionally, Husqvarna produced rifles will generally have fewer serialized parts than the converted M96 rifles made into M38's, where virtually all metal parts will bear the last three digits of the rifle's serial number.

Finally, while the earliest M96 long rifles had unit marking disks installed in the stocks, M38's would all have been made with the later bore condition type stock disks. The disks give the bore diameter in millimeters and the bore condition on a scale from 0 to 4. A "0" bore would be indicated by no markings on the bore condition portion of the disk. A "0" bore meant it was like new with absolutely no wear or damage. Bore remained in service after the condition deteriorated to conditions 1 through 3. At condition 4, the bore was significantly corroded or worn and the disk would be removed and the hole filled with red wax to indicate the barrel needed replacement.

Bore conditions:
0 - like new.
1 - one or a few dark areas in the corners between grooves and lands.
2 - Rust in the corners between lands and grooves, odd spots of rust in the grooves.
3 - spots of rust throughout the length of the bore, but no sharp edges on the rust patches.
4 - sharp edges between corroded and non-corroded areas. Such a barrel would be discarded and replaced.
........... (Feedback by "Claven2")
2.
Here is another "all correct" example of an 1899 M96/38 Swedish Short Rifle Serial # 23669, also converted by Carl Gustafs Stads Gevarsfaktori between 1938-1940.

This particular rifle is unique in that it was originally mfg in Germany uncer license as an M96 rifle by Waffenfabrik Mauser, Oberndorf a/N in 1899. Note: It is mounted with the "T" (Torped) rear sight, which differs from the other example in this MKL entry.
1899 M96/38 Swedish Short Rifle Serial # 23669
(Converted by Carl Gustafs Stads Gevarsfaktori 1938-1940)

"Originally mfg as M96 rifle by Waffenfabrik Mauser, Oberndorf a/N in 1899"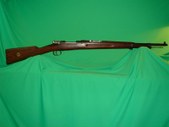 (Click PIC to Enlarge)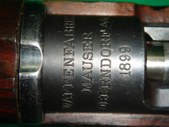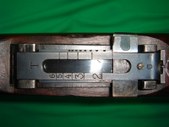 (Click PIC to Enlarge)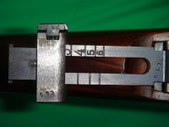 1899 M96/38 Swedish Short Rifle Serial # 23669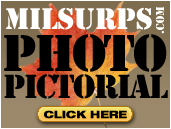 (100 picture virtual tour)
........... (Feedback by "Badger")