1955 Swiss Zfk55 (7.5 x 55mm) Sniper Rifle
(Manufactured in 1958)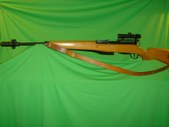 (Click PIC to Enlarge)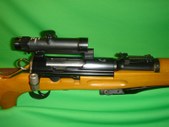 Calibre: ......................... 7.5x55 Swiss (GP11)
Rifling & Twist: ............... 4-groove, RH, concentric rifling, 1 in 10.63
Barrel Length: ................ 25.65 in. (652mm)
Overall Length: ...............47.55 in.(1208mm)
Weight: ......................... 13.5 lbs empty (with scope attached)
Magazine Capacity: ........ 6 round detachable box magazine
Qty Mfg (Total): .............. 4,150
Qty Mfg (1958): .............. 3,030 Serial # 1171-4200
Bayonet: ........................ Models 1899/18, 1918, 1918/55 and 1914 Pioneer (Sawback)

Sources: ....................... Swiss Magazine Loading Rifles, 1869 to 1958
.................................... by Joe Poyer - ISBN: 1882391322
.................................... also selected content Copyright SwissRifles.com.

Canadian Collector Market Value Estimate: $
1955 Swiss Zfk55 (7.5 x 55mm) Sniper Rifle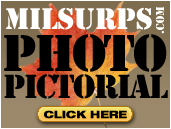 (64 picture virtual tour)
Observations:
This ZfK55 rifle is unfired and was never issued. It only has some minor marks from storage and at the support points where it was hanging for years as a wall display. It comes with a complete original parts roll, scope can and sling. Previously, it was in the personal collection of a former Director of the Waffenfabrik Bern and went directly from the production line into to his private collection.
Collector's Comments and Feedback:
1.
The "parts roll" that comes with this rifle is amazing. It's like a treasure hunt just going through it and seeing all of the small items they put in it, including a storage tube that has every front sight post replacement you'd ever want. I also purchased an aftermarket modern add-on St. Marie plug-n-play replacement mount, specially designed and built for the ZfK55. The St Marie mount uses the standard weaver configuration for mounting any commercially available scope and rings.
(Feedback by "Badger")