.30 M1 Carbine
(Mfg by Underwood Elliott-Fisher in approx. April, 1943)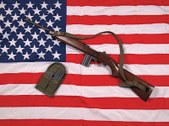 (Click PIC to Enlarge)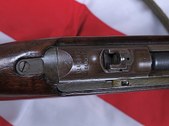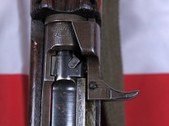 (Click PIC to Enlarge)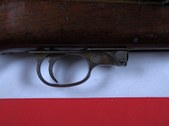 Caliber: ....................... .30 Carbine
Rifling & Twist: ............. 4 Groove, Right Hand Twist, 1 turn in 20"
Barrel Length: .............. 18" (460mm)
Overall Length: ............ 35.6" (900mm)
Weight: ....................... 5.2 lbs (2.4Kg)
Magazine Capacity: ...... 15 or 30 round detachable magazines
Total Qty Mfg: .............. 6,221,220 carbines
Qty Mfg: ...................... 545,616 made by Underwood Elliott-Fisher
Sources: ....................... Collecting the M1 Carbine III by J.C. Harrison - ASIN: B000H7N8CS, A Pocket History of the M1 Carbine by Robert Gibson, Guide to Collecting the M1 Carbine by Robert Gibson - LCCN: 76151445, U.S. M1 Carbines: Wartime Production by Craig Riesch - ISBN-10: 1882391438, Complete Guide to the M1 Garand and the M1 Carbine by Bruce Canfield - ISBN-10: 0917218833
.30 M1 Carbine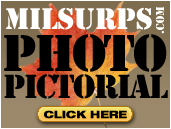 (30 picture virtual tour)
Observations: (by "Claven2")
Note: Pics of rifle provided courtesy of Milsurps.com moderator Claven2.
As early as the 1920's, the US Army began looking for a replacement to the M1903 rifle in .30-06. This eventually culminated in the M1 Garand of WW2 fame. With a new service rifle selected, it became apparent that a full-size M1 was not a practical choice for all soldiers. Some troops (e.g. truck drivers, radiomen, linemen, officers, medics, engineers and mortar crews) needed a lighter-weight and handier firearm - a role hitherto filled by the M1911 service pistol which was not always accurate or powerful enough for the job at hand. As a result of these requirements, the US Army developed a requirement for a weapon weighing under 5 lbs and an effective range of 300 yards.
Subsequently, the Army held a competition in 1941 to develop the new carbine and the new .30 carbine cartridge was specified for all carbine submissions. Winchester ultimately would win this competition though at the onset they almost decided not to enter it given their work on improving the M1 rifle. The rifle they were working on was based upon a design by John Moses Browning's brother, Ed Browning, but the final product began to take shape when David "Carbine" Williams was hired onto the Winchester team and introduced a short-stroke piston to the weapon. Finally, a M1 Garand-style rotating bolt and operating rod were added to address some reliability problems with Browning's original bolt design highlighted during early rifle trials.
Still not a part of the carbine submissions, Winchester contacted Army Ordnance to consider the rifle they were hoping would replace the M1 Garand. Instead, Ordnance officials asked Winchester to scale down the new weapon to satisfy their requirement for a new carbine. Reportedly, Winchester took only 13 days to revamp their rifle design into a workable M1 Carbine prototype. After further refinement, a second prototype successfully defeated the other carbine submissions and Winchester was declared the victor in October, 1941. Official standardization by the US Army as the .30 M1 carbine came on the 22nd of October.
The M1 Carbine saw service in all theatres of war during WW2. In service, the rifle was highly praised for its compact size and handiness and it was issued in huge numbers. Almost immediately, however, some troops complained of its lack of stopping power, under some circumstances requiring several hits to stop an opponent. Also, the carbine did not handle small trees and light cover very well, offering poor penetration. On a whole, however, it was notably superior in performance to the M1911 pistol it had widely replaced. Military M1 and M2 carbines were manufactured from September 1941 through August 1945.
The M1 was eventually given a select-fire capability and the M2 variant and an infrared night-vision capability as the M3 variant. These variants came late in the war along with the addition of a bayonet lug to accept the M4 bayonet.
The M1 continued in service through the Korean War where it did not perform optimally in extreme cold weather conditions and on into the Vietnam War before it was largely supplanted by the M16 rifle in the 1960's. Throughout this time, carbines were used continuously by US soldiers and as a result nearly all carbines encountered today will bear witness to one or more arsenal rebuilds. Parts were mixed around, bayonet lugs were added, most guns had their original push-button safeties replaced with a two-position flip safety, and the rear sights were changed for first milled and later stamped rear sights adjustable for both elevation and windage.
M1 Carbine Production

Inland Manufacturing Division, G.M.C.......................2,394,510
Winchester Repeating Arms Co................................828,059
Underwood-Elliot-Fisher Co.....................................545,616
Saginaw Steering Gear Div., G.M.C., Saginaw...........293,592
Saginaw Steering Gear Div., G.M.C., Grand Rapids....223,620
National Postal Meter Co........................................413,017
Quality Hardware & Machine Co..............................359,666
International Business Machines Corp (IBM).............346,500
Standard Products Co............................................247, 155
Rock-Ola Co................................................ ........162,194
Irwin Pedersen.......................................... ...........3,542

Total............................................. ......................6,221,220
It is worthy of note that Saginaw Steering Gear of General Motors Corp. had two factories producing the M1 carbine, one in Saginaw, MI and one in Grand Rapids, MI. Grand Rapids took over the Irwin Pedersen contract after that company assembled only 3,542 guns, all of which were rejected by government inspectors. Additionally, some Quality Hardware carbines were assembled on receivers made by Union Switch & Signal Co. These carbines are marked "UN-QUALITY" referring to Union Switch and Signal, not a lack of quality in the receiver. Finally, some early National Postal Meter receivers are marked "Rochester", for the Rochester Defence Corp. and some late production receivers are marked "CCC", for Commercial Controls Corp. to reflect a change in company name.
Collector's Comments and Feedback:
1.
The very vast majority of M1 carbines encountered by the collector today have been rebuilt at least once. Many of them have been re-imported to Canada or the US from a variety of countries which received military aid from allied countries during and after WW2. What makes the carbine depicted in the above gallery interesting is that this example has never been rebuilt at an arsenal and is in the condition in which it left the Underwood factory in 1943. It was located from an estate in Canada and although undocumented is very likely one of the carbines used by Canadians serving with the 1st Special Service Force, also known as "The Devil's Brigade". This is one of two Underwood carbines to come out of the same estate, the other was Canadian ownership marked with a C-broad arrow and only a few hundred serial numbers apart from this one.

In general, when collecting M1 carbines, premiums are typically paid for greater degrees of originality. At the top of the list are non-refurbished carbines in order of rarity based upon manufacturing numbers: Irwin Pedersen marked guns being the rarest and Inland Division of General Motors guns being the most common. Some of the most sought after features in collectible carbines include "high-wall" stocks, clear wood cartouches, original 2-position peep sights, flat profile bolts, original "push-button" safeties, and "I-cut" stock oiler slots.
........... (Feedback by "Claven2")