Blueprints and Specifications for the M14 7.62mm Service Rifle
(Blueprints dating from 1954 with revisions through the 1960's)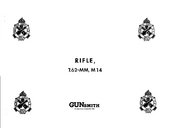 (Click PIC to read and save Adobe PDF File)
(Right Click on PIC and choose "Save Target As..." to download PDF file)
M14 Receiver - PDF file size = 2.60Mb
-------------------------------------------------------------------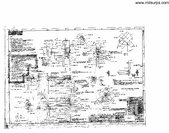 (Click PIC to read and save Adobe PDF File)
(Right Click on PIC and choose "Save Target As..." to download PDF file)
Bolt PART 1 of 2 - PDF file size = 496k
-------------------------------------------------------------------
(Click PIC to read and save Adobe PDF File)
(Right Click on PIC and choose "Save Target As..." to download PDF file)
Bolt PART 2 of 2 - PDF file size = 217k
-------------------------------------------------------------------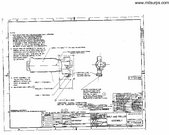 (Click PIC to read and save Adobe PDF File)
(Right Click on PIC and choose "Save Target As..." to download PDF file)
Bolt and Roller Assembly - PDF file size = 144k
-------------------------------------------------------------------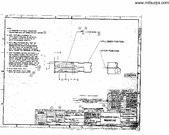 (Click PIC to read and save Adobe PDF File)
(Right Click on PIC and choose "Save Target As..." to download PDF file)
Follower - PDF file size = 172k
-------------------------------------------------------------------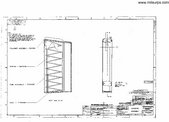 (Click PIC to read and save Adobe PDF File)
(Right Click on PIC and choose "Save Target As..." to download PDF file)
Magazine Assembly - PDF file size = 202k
-------------------------------------------------------------------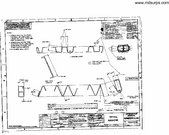 (Click PIC to read and save Adobe PDF File)
(Right Click on PIC and choose "Save Target As..." to download PDF file)
Magazine Spring - PDF file size = 145k
-------------------------------------------------------------------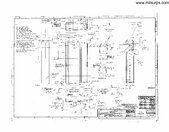 (Click PIC to read and save Adobe PDF File)
(Right Click on PIC and choose "Save Target As..." to download PDF file)
Magazine Tube - PDF file size = 254k
-------------------------------------------------------------------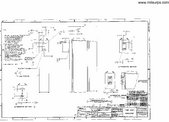 (Click PIC to read and save Adobe PDF File)
(Right Click on PIC and choose "Save Target As..." to download PDF file)
Magazine Tube Assembly - PDF file size = 236k
-------------------------------------------------------------------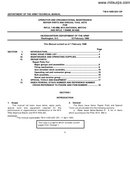 (Click PIC to read and save Adobe PDF File)
(Right Click on PIC and choose "Save Target As..." to download PDF file)
M14_9-1005-223-12P - Operational and Organizational Maintenance
Repair Parts and Special Tool USTS (M14 National Match Rifle - Feb 1968)
PDF file size = 364k
-------------------------------------------------------------------
(Click PIC to read and save Adobe PDF File)
(Right Click on PIC and choose "Save Target As..." to download PDF file)
M14_9-1005-223-20 - Operational and Organizational Maintenance
Repair Parts and Special Tool Lists (M14/M14A1/M2 Bi-pod - August 1972)
PDF file size = 2.91Mb
-------------------------------------------------------------------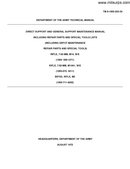 (Click PIC to read and save Adobe PDF File)
(Right Click on PIC and choose "Save Target As..." to download PDF file)
M14_9-1005-223-34 - Direct Support and General Support Maintenance Manual
(Including Depot Maintenance and Special Parts Repair Tools for M14/M14A1/M2 Bi-pod - August 1972)
PDF file size = 2.52Mbk
Observations:
Note: Digitization of blueprints provided courtesy of MILSURPS.COM member "dimitri".
The U.S. Rifle 7.62 mm M14 was adopted for military service by the United States on May 1, 1957. The M14 rifle was developed to replace four military firearms, M1 Garand rifle, M1 Carbine, M1918 Browning Automatic Rifle and the M3A1 submachine gun. The M in M14 stands for Model. The M14 is a rotating bolt, gas operated, air cooled, magazine fed, shoulder fired weapon. The M14 is 44.28 " long with the hinged butt plate and weighs 8.7 pounds. With a full magazine, cleaning kit and sling it weighs 11 ½ pounds approximately. The maximum effective range is 460 meters (503 yards). The M14 has seen hostile service with the American military from the 1963 Cuban missile crisis to the Second Gulf War. The M14 rifle has been employed as a battle rifle, squad automatic weapon, competition match rifle, grenade launcher, sniper weapon system and ceremonial rifle.
Between 1958 and 1963, the U. S. government ordered 1,380,358 M14 rifles from four entities. These were the U. S. Army's Springfield Armory in Springfield, MA; Winchester (Olin Mathieson Chemical Corp.) in New Haven, CT; Harrington & Richardson Arms Company in Worcester, MA; and Thompson-Ramo-Wooldridge, Inc. in Cleveland, OH. A total of 1,376,031 M14 rifles were delivered between 1959 and 1964.
These various blueprints and specifications for the M14 7.62mm Service Rifle are graciously provided for the benefit of the MILSURPS.COM members by
dimitri
. The original drawings are dated from October 1954 through July, 1958 and many of the blueprints show revisions dating through the 1960's.
Collector's Comments and Feedback: