Milsurps Knowledge Library ** December ** Entry of the Month
1903 ShtLE (Short Lee-Enfield) Mk1 Rifle
(Mfg by LSA - London Small Arms)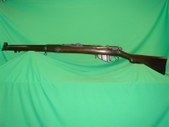 (Click PIC to Enlarge)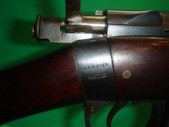 Caliber: ....................... .303 in.
Rifling & Twist: ............. 5 Groove, Enfield, Left Hand Twist
Barrel Length: .............. 25.2 in (640 mm)
Overall Length: ............ 44.5 in (1130 mm)
Weight: ........................ 8.5 lb. (3.7 kg) (unloaded)
Magazine Capacity: ...... 10 rounds (magazine loaded)
Total Qty Mfg: .. ............ 363,097 (by Enfield, Sparkbrook, BSA Co. and LSA Co.)
Qty Mfg by LSA Co. ........ 65,000

Source: ....................... The Lee-Enfield Story by Ian Skennerton (1993) - ISBN: 185367138X

Canadian Collector Market Value Estimate: $
1903 ShtLE (Short Lee-Enfield) Mk1 Rifle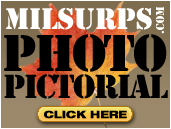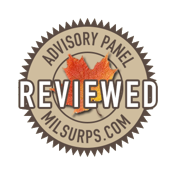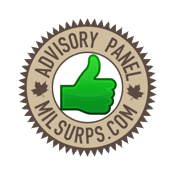 (130 picture virtual tour)
Observations:
Note: Pics of rifle provided courtesy of MILSURPS.COM member ~Angel~.
The rifle shown in the picture virtual tour is in "like new" museum quality condition. It's an LSA (London Small Arms) pre-production rifle marked
Patent 19.145/90
. It was a presentation piece that came complete with matching bayonet/scabbard/frog & original black leather sling. It is double serial number marked with LSA's commercial serial # 66 and also with a military serial # 37E.
Collector's Comments and Feedback:
1.
This rifle was originally purchased by Val Forgett Sr., the owner Navy Arms N.J. during the 1960's, reportedly from W.W. Greener's private corporate collection dating from 1903. Subsequently purchased from Forgett by a private collector and has been in private hands for the last 20 years. Earliest configuration ShtLE, just after the completion of the trials pattern. It has the early pattern swivels (rear is a screw-in), large swivels, sheet metal butt plate no trap, early magazine with loop on floorplate, c/w "chain" link to attach the magazine. It has the windage adjustable sight with bone knobs. ....
(Feedback by "Badger")
2.
When the Lee magazine rifle was first adopted, loading by charger had not yet been adopted, so two magazines were issued for each rifle. But there was a problem with feeding if the magazines were not fitted to the rifle by a skilled workman. So one magazine was considered the primary magazine; it was chained to the rifle (as pictured below); the second magazine, pre-loaded, was carried in the soldier's pocket or belt.

In use, the primary magazine was to be emptied, then it would be released and the second magazine inserted. The chain kept the primary magazine from being lost.

After charger loading was adopted, issue of the second magazine was discontinued. Since the primary magazine would not be removed except for cleaning the rifle, it was considered that attaching it to the rifle by a chain would no longer be necessary, but the loop was retained. Later, it came in handy for attaching the receiver cover.

One additional footnote. Some of the earliest rifles had a more elaborate milled loop in the center of the trigger guard assembly rather than offset as are the later ones. ....
(Feedback by "Jim Keenan")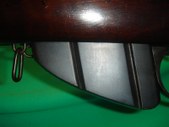 (Click PIC to Enlarge)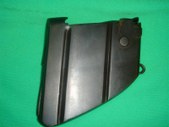 3.
The terminology for the new SMLE rifle introduced in 1907 was the Short, Magazine Lee Enfield Rifle MkIII. It followed the Short, Magazine Lee Enfield Rifle Mk1 which had been introduced in 1903. Both of these were new made rifles. In between them was the Short, Magazine Lee Enfield MkII Cond. This model was a conversion from earlier "Long Lee Enfields" to the current "Short rifle" pattern. There were also subsequent mods to the Mk1 (right up to early WW1) and MkIII (to MkIII*) as well as other conversions which I won't go into, but suffice to say, Britain had a lot of rifles that were basically the same, but differed in a lot of ways. Because of this a decision was made to standardise the small arms and their nomenclature in 1926. It was decided that all rifles must comply with the latest pattern. It was to become the Rifle, No1 MkIII(*). There is several entries in the "List Of Changes to British war Material" that Ian Skennerton summarised on page 172 of "The Lee Enfield Story". His notes read…

The nomenclature of British service small arms and some other equipment was changed and updated on 31st May 1926 so as to simplify the ever-increasing number or marks and such variation in the war material. The List Of Changes announcements, A1536- A1690, run to many pages and an update is also provided in this LoC reference as to the items then classed as being obsolete, obsolescent, omitted from Vocabulary or with any changes in designation, along with the appropriate cross reference paragraphs in previous List of Changes entries.

Such changes applicable to this study are;

Rifle, Short, MLE MkIII to Rifle No1 MkIII
Rifle, Short, MLE MkIII* to Rifle No1 MkIII*
Rifle D.P., Short, MLE to Rifle No1 D.P.
Rifle, E.Y. Short, MLE to Rifle No1 E.Y.
Rifle, Short, .22 RF MkIV to Rifle No2 MkIV*
Rifle, Magazine, .303-in Patt' 14:
MkI Ww/fine adjustment sight to Rifle No3 Mk1*(F)
MkI* W (T) to Rifle No3 MkI* (T)
Rifle, Short, .22in RF:
Sight auxiliary, aperture, MkI to Sight auxiliary, MkI


The following are listed as being obsolete:

Rifles, Charger-Loading, MLE
Rifles, MLE
Rifles, MLM
Rifles, Long .22-in RF MkII

Those rifles omitted from Vocabulary but retained in store for possible future requirements were:

Rifles, Short, MLE:-
MarkI
MarkI*
MarkI***
Converted MarkII
Converted MarkII*
Converted MarkIV

You can see from the bottom group that all of these rifle models were NOT to be included in the new Vocabulary. The official book, the "List of Changes to British War Material" makes a point of saying so. They would have continued to be known as their original designations.

I do feel that for an educational tool, the Milsurp Knowledge Library, potentially, has no equal in range or depth of material. I think it is up to us to try to keep it as factual as possible so as not to knowingly promote misunderstanding or misinformation. .....
(Feedback by MILSURPS.COM Advisory Panel Member "Son")