March 2015 - Featured Milsurp Library Entry of the Month
1944 Mosin-Nagant M91-30 Sniper Rifle
(Mfg by Izhvesk Arsenal)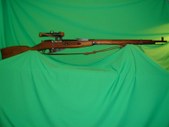 (Click PIC to Enlarge)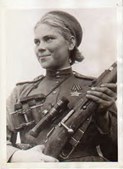 <--- Roza Shanina (1924-1945) (see note #5)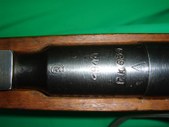 (Click PIC to Enlarge)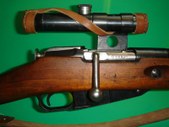 Calibre: ....................... Russian Light Ball M'08; Bullet 148gr, Charge 48gr
Rifling & Twist: ............. 4 Grooves, Right Hand Twist
Muzzle Velocity: ........... 2850 fps
Barrel Length: .............. 28.7 in (729mm)
Overall Length: ............ 48.5 in. (1232mm) without bayonet
Overall Length: ............ 65.4 in. (1661mm) with bayonet
Weight: ....................... 11.3 lb (5.13Kg) without bayonet & sling
Magazine Capacity: ...... 5 round integral box
Scope: ......................... 3.5 power PU telescopic sight
Qty Mfg: ...................... Refer to Note #3 below under Collector's Comments and Feedback

Source: ...................... The Russian Mosin Nagant Page

Canadian Market Value Estimate: $
1944 Mosin-Nagant M91-30 Sniper Rifle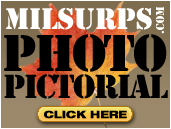 (103 picture virtual tour)
Observations:
Extracted from article by Bert Kortegaard
"During the Winter War of '39-'40 the Russians learned from the Finns through bitter experience, the value of snipers.

Simo Häyhä
, a farmer, is credited with the killing of over 500 Russian soldiers in fifteen weeks with his Model 1928 Mosin-Nagant rifle. As a result, the Russians began to place more emphasis on their sniper training program.
Production of the 1891/30 sniper rifles began in 1937 and ended in 1963, when the 1891/30 sniper rifle was replaced by the Dragunov sniper rifle. Sniper rifles were chosen for accuracy from the production lines, had the bolt turned down and were fitted with a telescopic sights. Apart from these differences, they were the standard 1891/30 rifle. Two types of scopes were used, the earlier 4 power P.E. scope and the compact 3.5 power P.U. scope. The best of the Russian snipers preferred the 1891/30 to the SVT40, which was also issued in a sniper model, because they were more reliable and the action made practically no noise."
Collector's Comments and Feedback:
1.
"Question: Is this an authentic Russian m91/30 PU sniper?"

Originally posted by Vic Thomas on Gunboards 03/15/2006 09:14:06 AM

Yes you have an authentic MN m91/30 PU sniper. It appears to be an original piece that has escaped most refurbes. The gun looks to be very nice and has a pretty rare leather sling. The scope appears to have been replaced at one time due to the rifles serial number being different on the mount facing. The mount is an Izhvesk made mount though. All in all I would say its a very nice wartime example of a PU.

Michigan Historical Collectables
Owner-operator Gunboards.com
Mosin Nagant.net"
2.
With the amount of put-togethers and fakes floating around, collecting Mosin snipers can be a challenging experience. For the uneducated, there's a great introductory article by Vic Thomas titled Spotting A Fake Sniper" (click here)
..............
(Feedback by "Badger")
3.
Extracted from the 91/30 Sniper Page by Vic Thomas (click here). "Due to the secretive nature of the Soviets during the Cold War era, the subsequent manufacture, and re-manufacture of the weapons by numerous satellite states, and the chaotic state of the former USSR since the Iron Curtain finally came down, definitive manufacturing figures for 91/30 PU sniper rifles are hard to come by. According to German author and respected Mosin Nagant rifle authority Karl-Heinz Wrobel, the Iszevsk arsenal produced 53,195 91/30 PU sniper rifles in 1942, and a total of 275,250 when manufacture ended in 1958, when 100 PU rifles were made. A small batch of 50 was apparently manufactured in 1948, and one 1947 example is known to exist, which is in Wrobel's collection. Numbers made at Tula, which only manufactured PU rifles in 1943 and 1944, are not known, although rifles from this arsenal are without a doubt much rarer than Iszevsk examples. Hungary only apparently manufactured 91/30 rifles from 1951-54, and the author has only encountered M/52 sniper variants dated from 1952 onwards, with the highest serial number recorded being 7700, which could be a reliable indicator of the number of the weapons produced."
..............
(Feedback by "Badger")
4.

Simo Häyhä had 542 confirmed kills with a mosin, usually an M28 or captured M38. He's also credited with approximately 200 more kills using a Suomi submachine gun.
..............
(Feedback by "Claven2")
5.
The female Russian sniper pictured in this MKL entry is Roza Yegorovna Shanina (1924-1945)

Place of birth: Yedma, Arkhangelsk Oblast, Russian SFSR
Place of death: East Prussia
Allegiance: Red Army
Years of service: 1943–1945
Rank: Senior Sergeant
Unit: 3rd Belorussian Front
Battles/wars: Eastern Front of World War II
Awards: Orders of Glory 3rd and 2nd class [1], Medal for Valor [2]

Roza Yegorovna Shanina (Russian: Роза Егоровна Шанина, 1924 – January 28, 1945) was a Soviet sniper during World War II. She was responsible for 54 confirmed kills, including 12 enemy soldiers during the Battle of Vilnius.[3] [4]

Shanina had light brown hair and blue eyes.[5] After attending Arkhangelsk Teacher's Training College, she became a mentor in the kindergarten. Then she voluntarily joined the Vsevobuch and later the Central Female Sniper Academy in Podolsk. On June 22, 1943 Shanina enlisted in the Red Army and on April 2, 1944 joined the 184th Rifle Division, where a separate female sniper platoon was formed. Once, upon receiving a battalion commander's order to immediately return to the rear, Shanina replied "I will return after the battle".[6] The words later became a title of the book From The Battle Returned by Nikolai Zhuravlyov. Shanina died in a battle near the khutor of Rikhau. Her battle diary and several letters have been published. Streets in Arkhangelsk and in the settlements of Shangaly and Stroyevskoye were named after her.

Shanina had four brothers, but only one survived the war.

Notes and references:

1. Awarded on June 18 and September 22, 1944 respectively.
2. Awarded on December 27, 1944.
3. SniperCentral.com
4. Russian: Овсянкин, Е. И. История АПК.
5. A-Z.ru.
6. (Russian) Молчанов, П., Журавлёв, Н. Подснежники на минном поле

Further reading
(Russian) Журавлëв, Н. После боя вернулась… (За честь и славу Родины). М., Досааф. 1985
..............
(Feedback by "Unsub")
extracted from

Roza Shanina
6.
Ernest "mag30th" kindly gave us permission to show his range videos in "The Screening Room". One of them shows him engaging an 18" steel plate at 1000 yards with his 1942 91/30 Mosin Nagant sniper rifle. Some very nice shooting with a very old milsurp.
..............
(Feedback by "Badger")