1950 C No.4 Mk1* Long Branch Rifle
"All Matching Serial Numbers (unissued rifle)"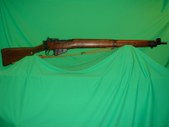 (Click PIC to Enlarge)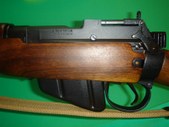 Caliber: ....................... .303 in.
Rifling & Twist: ............. 5 Groove, Enfield, Left Hand
Barrel Length: .............. 25.2 in. (640mm)
Overall Length: ............ 44.5 in. (1130mm)
Weight: ....................... 9 lb. (4.1kg)
Magazine Capacity: ...... 10 rounds
Qty Mfg: ...................... 1941-1955 (approx 5,000,000)

Source: .... The Lee-Enfield Story by Ian Skennerton (1993) - ISBN: 185367138X

Canadian Market Value Estimate: $
1950 C No.4 Mk1* Long Branch Rifle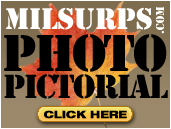 (94 picture virtual tour)
Observations: by Claven2
Note: Rifle provided courtesy of MILSURPS.COM member ~Angel~.
By the late 1930s the need for new rifles grew, and the Rifle, No. 4 Mk I was adopted in 1939, although widespread production did not start until 1941. The No. 4 action was similar to the Mk VI, but lighter, stronger, and most importantly, easier to mass-produce. Unlike the SMLE, the No 4 Lee-Enfield barrel protruded from the end of the forestock. The No. 4 rifle was considerably heavier than the No. 1 Mk. III, largely due to its heavier barrel. A new bayonet was designed to go with the rifle. The result - a spike bayonet with a heavy steel mount and latch - was essentially a steel rod with a sharp point, and was unsurprisingly nicknamed "pigsticker" by the soldiers. Towards the end of WWII, however, a bladed bayonet was developed and issued for the No 4 rifle, using the identical mount as the spike bayonet.
During the course of World War II, the No. 4 rifle was simplified for mass-production with the creation of the No. 4 Mk I* which saw the removal of the bolt release catch, replaced with a more simplified notch on the receiver. It was produced only in North America with Long Branch Arsenal in Canada and Savage-Stevens Firearms in the USA producing the No. 4 Mk I* rifle from their respective factories.
Although rifle production at Longbranch had ceased in 1945, in 1949 the No.4 rifle went back into production. Many of the rifles built during the war had been damaged beyond economical repair or given to foreign countries as military aid. In truth, a large portion of Longbranch production had been slated for Canada's allies and so the number of rifles made does not reflect the number of rifles available to the Canadian Forces after 1945. Production in 1949 was comparatively low, but picked up in 1950. 1950 is the last year of series production, though replacement receivers dated into the mid-1950's can sometimes be located. These replacement receivers would all originally have been manufactured in 1950.
Collector's Comments and Feedback: