Experimental T99 Paratrooper Rifle Serial #7
(Mfg by Toriimatsu Factory of Nagoya )

(Click PIC to Enlarge)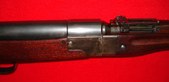 (Click PIC to Enlarge)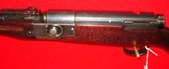 Caliber: ....................... 7.7 x 58mm (7.7mm Japanese)
Rifling: ........................ 4 Groove Right Hand "Metford"
Barrel Length: ............. 25.5 in. (571mm)
Overall Length: ............ 44 in. (1118mm)
Weight: ....................... 9.5 lb. (4.31Kg)
Magazine capacity: ...... 5 Rounds
Qty Mfg: ...................... 7
There is one other known to exist and it is a lower serial number than # 7.

Source: ........................ Banzai Publication by Stan Zielinski
Experimental T99 Paratrooper Rifle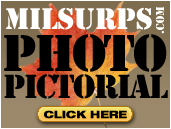 (10 picture virtual tour)
Observations:
Note: Article and pictures provided courtesy of MILSURPS.COM member "riceone"
According to Military Rifles of Japan, the Toriimatsu Factory of Nagoya Arsenal made this experimental T99 Paratrooper rifle. All parts of this rifle are standard T99, except for the takedown and bayonet housing. Barrel is same length and bolt parts are interchangeable. The halves will fit a T2 but will not lock up due to the wedge being different. Also according to MRJ, the serial # 7 is the highest recorded serial number of a folding bayonet T2, so it would seem only 7 were made and this one is the last.
More detailed comments appear under the various pics which may be viewed within the photo pictorial.
Collector's Comments and Feedback: