The following article is published with the kind permission of Advisory Panel Member,
Mr. Peter Laidler
. On behalf of MILSURPS.COM members, we'd like to publicly thank him for his support of this forum, as well the broader Lee Enfield collector community in general.
Note:
After you click on images to ENLARGE them, you may find they automatically size smaller in your browser's window making them hard to read. The auto sizing is your browser's way of keeping images entirely within the screen size you have set. If this happens, you will see a small box in the bottom right hand corner of the pic with four arrows point outwards. Click this box and the pic will
EXPAND
and open up to its normal size, so you should now be able to read any text and make out small details.
"The Making of a REME Armourer"
By Peter Laidler
Two examples of apprentice REME Armourers work. While their actual apprenticeship lasted three years, they only left the training school at Arborfield and later, Carlisle, as second class Armourers. It took another two years or so before they went for their first class trade test and came away as fully qualified Armourers. It was during this time that they truly excelled and could cope with anything that was put before them as TRUE craftsmen.
Here are two examples of Armourers work. The first an Enfield revolver sectioned as a project at 40 Base Workshops in Singapore during a 1st class trade course. Using hand and machine tools. Oh, and incidentally, the mainspring was hand made too! The criteria of what was required by the instructors (in this case, by the affable Mr Amto) was pretty loose. But that was deliberately a double edged sword because without a great deal of in-depth knowledge and investigation, the Armourer could quickly find that in his haste, he had cut away a small part that was needed to show or to support something else. Something like the base for a spring or opening for a pin was always a favourite.
Next is a No32 telescopic sight. While Instruments were not generally the realm of Armourers, it was decided in the late 60's to teach certain Armourers the basics of unit held instruments such as sights, compasses, binoculars, clocks and wrist watches etc. This was an Armourers work during his Instrument 3rd class phase at the same workshop. Once again, the criteria was quite loose and you could easily fall into the trap of getting ahead of the game……. Just like he did here! The observant will see that the bottom of the right hand anti backlash spring (you know, the two little 'double figure 6' shaped springs…..) of the deflection cursor is out on a limb and unsupported. Oh well, you can't win them all………….
There are no Armourer apprentices in training any more except in the Republic of India EME and the last ex apprentices are all at the very end of their service, certainly in Britain. We probably won't see the like of these skills from Armourers in the future.
Rear view forward. All self explanatory but note the 6 (two seen) inert rounds in the open cylinder. The whole of he cocking, feeding and cylinder locking mechanism can be seen from this side.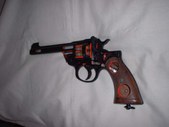 (Click PIC to Enlarge)
Left side larger view showing the Armourers art to its full.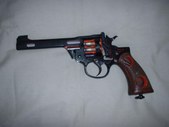 (Click PIC to Enlarge)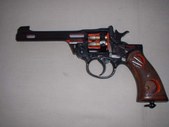 Right side from the rear. Showing the Mk1 hammer safety and rebound action of the main spring lever on the tail of the hammer and the hammer catch and spring.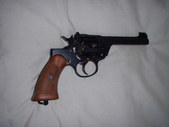 (Click PIC to Enlarge)
Close-up of the mechanism at rest on a Mk1 pistol. This clearly shows the hidden and sometimes mysterious part played by the extractor lever, the auxiliary lever and the tiny spring. Clever eh!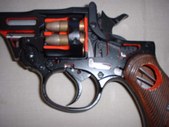 (Click PIC to Enlarge)
The inside of the turret of a Mk 1 and 2 telescope. The principal difference is in the graduations of the drums. On balance and with the current prices of these things, it's almost criminal to cut such a beast up, purely in the name of teaching ….., and a perfectly serviceable one too!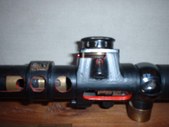 (Click PIC to Enlarge)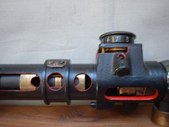 An Armourers trade test piece, formerly in the display cupboard at the Instrument shop, 40 Base Workshop REME in Singapore. On its own, it merely shows the mechanical operation of the sight but these exhibits usually also had an optical view showing the light convergence and image path made out in coloured ribbon too. It made teaching VERY effective. I wonder why they don't use these well tried and trusted methods in schools now!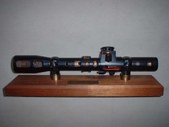 (Click PIC to Enlarge)
Top view. This is an old Mk1 sight but the mechanical moving wire and optical system is the same throughout. Clearly shown is the erector system that focuses the graticule
(Click PIC to Enlarge)
Copyright ©2006 - 2009 by Peter Laidler and MILSURPS.COM
Collector's Comments and Feedback:
1.
In addition to being a trained and highly experienced military "Armourer", Peter Laidler has authored two excellent books about the No.4(T) sniper rifles and their No.32 scopes. They are titled "An Armourer's Perspective: .303 No.4(T) Sniper Rifle", which he co-authored with Ian Skennerton and his own dedicated work, "Telescope Sighting No.32".

If you're really interested in some in-depth learning about the No.4(T) sniper rifles and the No.32 series of scopes, their history, evolution, repair and adjustments for shooting, I'd highly recommend those two books, which are pictured below.
.......
(Feedback by "Badger")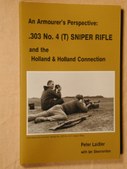 (Click PIC to Enlarge)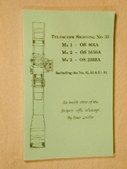 2.
Peter discusses the No.32 sniper scope within his article about the training REME Armourers. As a cross reference, we have an interesting piece complete with photo montage in the England - Milurps Knowledge Library. The scope pictured in that virtual tour is a very early 1941 No.32 Mk1 Sniper Scope (click here) serial #1302 in excellent condition with original scope bracket made by Rose Bros., marked "JC" along with the original rifle serial number of A37479. Rings are matching and numbered 58 and 59. Scope adjustment dials click perfectly with range and windage markings on the dials in excellent visual and working condition. There's also an interesting article posted at Snipercountry about the these scopes, titled "Historic Sniper Scopes- A comparative Study -The No.32 Mk1" (click here).
1941 No.32 Mk1 Sniper Scope (click here)
(Mfg by William Watson & Sons for the No.4 Mk1(T) Enfield Sniper Rifle)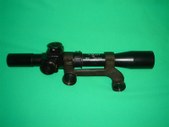 (Click PIC to Enlarge)
.......
(Feedback by "Badger")
Note: The opinions expressed herein or statements made in this article are solely those of the author, and do not necessarily reflect the views of the Military Surplus Collectors Forums, or the ownership and moderation group of this site. MILSURPS.COM accepts no legal liability or responsibility for any claims made or opinions expressed herein. Also, please note that neither the author nor MILSURPS.COM recommends that any member of these forums, or a reader of this article, try this type of experimentation without the proper knowledge, equipment and training.