Lithgow No.6 Mk1 and Mk1/1 Rifles
(Mfg by SAF Lithgow) "Experimental"
Note:
After you click on images to ENLARGE them, you may find they automatically size smaller in your browser's window making them harder to view. The auto sizing is your browser's way of keeping images entirely within the screen size you have set. Move your mouse pointer to the bottom centre of the pic and you will see an options panel appear. There will be a small square box next to the large
X
, which will have a pointer arrow sticking out of it. If it's illuminated, it means the pic you're viewing can be enlarged, so click on this box and the pic will
EXPAND
and open to its normal size.
There are two MkI/I rifles featured in the detailed photo montage, one with the brass butt plate and one with the rubber butt pad.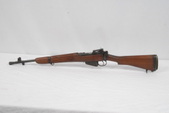 (Click PIC to Enlarge)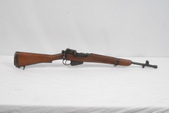 (Click PIC to Enlarge)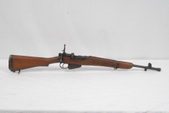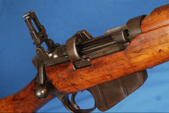 (Click PIC to Enlarge)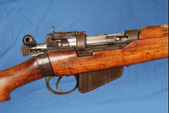 (Click PIC to Enlarge)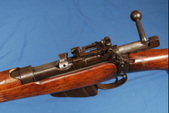 Caliber: ........................... .303 in.

Rifling & Twist: ................. 5 Groove, Enfield, Left Hand, 1 Turn in 10"

Groove Depth: ................. .005 in.

Width of Lands: ............... .0936 in.

Overall Length: ................ 39.11 in (993mm)
Barrel Length: ................. 19.0 in (483mm) without flash hider

Weight Overall: ................ 7lb 8oz (3.4kg) unloaded
Barrel Weight: …………… 1lb 10oz (0.74kg)

Mag Capacity: .................. 10 rounds


Sights

Back sight MkI: ............... U- notch leaf, 200 to 2,000 yds
Back sight MkI/I: ............ Aperture ladder, 200 to 800 yds
Foresight: ....................... Blade
Sight radius MkI: ........... 16.5in (420mm)
Sight radius MkI/I: ........ 23.25in (590mm)


Totals of 98 MkI and 96 MkI/I trials models were made, half of each batch fitted with rubber butt plate and hinged butt cap. The MkI had a standard leaf backsight with sheet steel protector wings, mounted just forward of the knox form. The rear sight on the Mk1/1 was mounted to the rear of the receiver (very similar to the No1 MkV) which was machined from a whole new receiver casting.

Serial numbers were prefixed with "XP" and nominally ran from XP101 to XP198 for the Mk1 (barrel mounted rear sight model) the first 49 having standard SMLE brass butt plates, the second 49 a rubber pad butt plate like the No5 Mk1.

The Mk1/1 (receiver mounted aperture sight) continued on from XP199 to XP294. The first 48 having standard brass SMLE butt plates, the second 48 had the No5 Mk1 type rubber pad.

*NOTE* These figures differ slightly from those below due to the first of the serial numbers for the Mk1/1 being recently found to be XP199. Unfortunately I lost the file, and so cannot produce the picture.


Source: .... The Lee Enfield by Ian Skennerton (2007) - ISBN: 9780949749826
Source: .... Small Arms Identification Series #19 by Ian Skennerton (2004) - ISBN: 0949749494

Lithgow No.6 Mk1 and Mk1/1 Rifles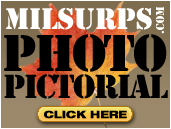 (66 picture virtual tour)
Observations:
by Advisory Panel member
Son
and member
Lithy
.
Note:
Some elements of this article contain quotes, extractions of data and information from two of Ian Skennerton's publications.
Source: .... The Lee Enfield by Ian Skennerton (2007) - ISBN: 9780949749826
Source: .... Small Arms Identification Series #19 by Ian Skennerton (2004) - ISBN: 0949749494
History
Development of a shorter service rifle better suited to battle conditions in the jungles of SE Asia had been a consideration since early 1943. The initial direction was toward a full stocked model resulting in two lengths of prototype rifles, one of which finally seeing 100 examples made for trials. These were the Shortened Lightened (Intermediate) rifles, serialed XP1 to XP 100.
Drawings of a jungle carbine type No1 were forwarded from Chief Engineer of Armament Design, Cheshunt UK to Australia and India, early in 1944. The design featured a lightened barrel, stockbolt, sear, breechbolt, triggerguard and a flash hider along with a bobbed foreend and a rounded metal cap like the early UK No4 Lightened Rifle. It's folding aperture backsight was similar to the MkV SMLE.
There is no denying the influence from the development of the UK's No5 rifle in the eventual design of the No6. Other than subtle differences in the stocking up, the No6's rounded receiver is about all that sets it apart from the square sided No5 especially in the aperture sighted MkI/I model.
The MkI (barrel mounted backsight) were made first, the 49 with standard SMLE brass butt plates serial numbered XP101 to XP149 (numerically following on from the previous trials Shortened Lightened rifles) These were ordered and finished between 21/12/44 and 15/3/45. Next were 49 with the rubber butt pad, XP150 to XP198 from 15/2/45 to 19/4/45
The MkI/I model (receiver mounted aperture sight) with standard brass buttplate, 48 rifles, XP199 to XP246 from 16/5/45 to 18/5/45 were next and last was 48 rifles MkI/I with rubber butt plate serialled XP247 to XP294 completed 28/5/45 to 8/8/45.
With the order completed by August '45, there was some accuracy and endurance testing carried out.
The Australian List Of Changes announced the introduction of the No6 rifle but declared it obsolescent in the same issue, obviously a case of "tidying up paperwork" after the event. An order had been made for 40,000 of the No6 rifle and it was looked upon as a conversion of existing stocks of No1 MkIII* rather than a pattern for new production.
The LoC announcement later notes "Consequent upon the Rifle No1 MkIII* remaining the standard rifle in Australian service, the above mentioned are hereby declared obsolescent " and "that existing stores are to be used up". However, most of these rifles do not appear to have been broken up, stripped or scrapped, as they were later sold off through various New South Wales Rifle Association clubs.
Collector's Comments and Feedback:
1.
The secret to creating and maintaining quality research data in the Milsurps Knowledge Library is you! This is your site and these MKL entries on various old milsurps are yours to add to, or change. The volunteers on the Advisory Panel (click here) can only do so much to vet and validate the information posted here, so please contribute as much as possible to help us present the most accurate and reliable data we can gather on these old milsurps. If you own a particular specimen of any MKL entry, then please send us pics of it, even though they may be duplicate views of pieces you already see here. In that way, we can build up multiple sets of pics for several milsurps of the same model, which will help in identifying markings and authenticity. For example, in the case of this MKL entry for the Lithgow No6 Mk1 and Mk1/1 Rifles, if you own one, we'd like to receive more pics of the stampings and serial number views as shown in the "Observations" section and various "Collector's Comments and Feedback" notes. ALL pics and information received will be treated with the utmost confidentiality and respect of your privacy. Thanks to everyone who has contributed so far, which is helping to make the Milsurps Collectors Forums a prominent site for serious collectors of all genres of old milsurp collectibles. .......
(Feedback by "Badger")