1896 M1891 Mosin Nagant Rifle
(Mfg by Tula)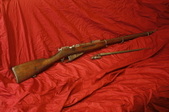 (Click PIC to Enlarge)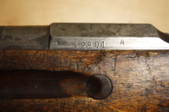 (Click PIC to Enlarge)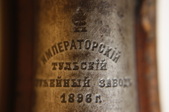 Note:
After you click on images to ENLARGE them, you may find they automatically size smaller in your browser's window making them harder to view. The auto sizing is your browser's way of keeping images entirely within the screen size you have set. Move your mouse pointer to the bottom centre of the pic and you will see an options panel appear. There will be a small square box next to the large
X
, which will have a pointer arrow sticking out of it. If it's illuminated, it means the pic you're viewing can be enlarged, so click on this box and the pic will
EXPAND
and open to its normal size.

Caliber: ....................... 7.62x54R

Rifling & Twist: ............. 4 groove, right hand twist, 1:9.5"

Barrel Length: .............. 31.5 in.

Overall Length: ............ 51.5 in.

Weight: ....................... 9.5 lb.

Magazine Capacity: ....... 5 rounds

Qty Mfg: ...................... 37,000,000+ (All variants - estimate)

Source: The Mosin-Nagant Rifle by Terrence Lapin, ISBN: 1882391217
1896 M1891 Mosin Nagant Rifle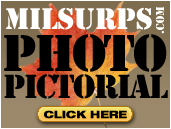 (24 picture virtual tour)
Observations: (by "lthilsdorf")
Note: Pics of rifle provided courtesy of Milsurps.com member "lthilsdorf".
The Model 1891 Mosin Nagant and its variants served the Russian military for more than seven decades and still turn up in numerous Third World conflicts to this day. While the basic design of the rifle stayed the same, there were numerous changes made over the course of its history that helped improve the overall design and upgrade the rifle with the changing times.
The particular rifle shown here, however, is an example of an M91 that received very few of the numerous upgrades that most it's fellow rifles received. This rifle was produced in 1896 at the Tula Arsenal.
The stock on this rifle is an early M91 stock which lacks the holes in the stock for the use of dog collars to hold the sling. At some point the rifle received wire sling swivels, which are discussed later in the article. The stock also includes a rather rare wooden cross bolt. There are faint remains of a cartouche on the right hand side of the rifle, but it is worn enough that identification would be impossible at this point.
The most interesting early feature of this rifle is the original flat leaf style rear sight, which was featured on all M91's prior to the Russian military's change to "spitzer" style bullets in 1908. As a result of this change in ammunition, the rear sights of the M91 were upgraded to the curved Kovolov sight that is most commonly seen today. While the sight on this rifle has suffered some damage at some point which gave it a slight curve, it is still an example of a rarely observed feature of an early M91.
Today it is uncommon to find an M91 with the flat leaf sight that isn't a Japanese captured rifle from the 1904-1905 Russo-Japanese War. Instead, this rifle shows several traits of being an Austrian captured rifle from the First World War. These traits include sling swivels typical of Austrian captured rifle stocks, possible unit markings on the top of the butt plate, and the inclusion of a very rare Austrian produced M91 socket bayonet and scabbard, which was included with the rifle upon purchase still covered in grease. There are no markings suggesting Finnish ownership of this rifle, and no evidence of being a Japanese captured rifle. While it cannot be said for certain, it would seem likely that this rifle is an M91 that missed many of the upgrades given over the years prior to 1914 and ended up being captured on the Eastern Front once World War I began.
Collector's Comments and Feedback:
1.
The secret to creating and maintaining quality research data in the Milsurps Knowledge Library is you! This is your site and these MKL entries on various old milsurps are yours to add to, or change. The volunteers on the Advisory Panel (click here) can only do so much to vet and validate the information posted here, so please contribute as much as possible to help us present the most accurate and reliable data we can gather on these old milsurps. If you own a particular specimen of any MKL entry, then please send us pics of it, even though they may be duplicate views of pieces you already see here. In that way, we can build up multiple sets of pics for several milsurps of the same model, which will help in identifying markings and authenticity. ALL pics and information received will be treated with the utmost confidentiality and respect of your privacy. Thanks to everyone who has contributed so far, which is helping to make the Milsurps Collectors Forums a prominent site for serious collectors of all genres of old milsurp collectibles. .......
(Feedback by "Badger")