The following article is published with the kind permission of member,
Graeme "broadarrow303" Barber
. On behalf of MILSURPS.COM members, we'd like to publicly thank him for his support of this forum, as well the broader Lee Enfield collector community in general.
Note:
After you click on images to ENLARGE them, you may find they automatically size smaller in your browser's window making them harder to view. The auto sizing is your browser's way of keeping images entirely within the screen size you have set. Move your mouse pointer to the bottom centre of the pic and you will see an options panel appear. There will be a small square box next to the large
X
, which will have a pointer arrow sticking out of it. If it's illuminated, it means the pic you're viewing can be enlarged, so click on this box and the pic will
EXPAND
and open to its normal size.
From No4 Mk I (T) to L42A1 - Part 1
by Graeme "broadarrow303" Barber
(Photography by Mike Harris)
This two part article describes how two No4 MkI Rifles manufactured at Birmingham Small Arms factory in 1944 were selected then converted into sniper rifles. Part 1 describes the journey for .303 rifle No4 Mk1 (T) # R33857 while Part 2 (click here) describes the journey for 7.62 x 51 rifle L42 A1 #K34325.
Part 1 – The .303 No4 MkI (T)
Rifle R33857 - General Description

Caliber: ................................... .303 in.
Rifling & Twist: ........................ 5 Groove, Enfield, Left Hand
Barrel Length: ......................... 25.2 in. (640mm)
Overall Length: ........................ 44.5 in. (1130mm)
Weight: ................................... 11 lb. 10 oz. (5.3kg)
Magazine Capacity: .................. 10 rounds
Rifle approval date: .................. February 12th, 1942
Rifle Manufactured: …………..... B.S.A. Shirley (M 47 C) 1944 # R33857
Rifle Converted: ....................... by Holland & Holland (S51)
Scope: ....................................... TEL. SGT. No32 MkIII O.S. 2039 A (Mfd by Taylor Hobson and Co) # 24860
Mk III Scope approval date:...... October 7th, 1944
Total Qty No4 (T) Mfd: .............. 23,177
Production from Sept. 22nd, 1942 to March 21st, 1946 - 9861 fitted with MkIII scope (as calculated by Peter Laidler)
"The Rifle not the Story"
Sniper rifles as described by Terry Warner were made for serious men on a deadly mission. On the advance, in contact, or in defence, the snipers aggressively pressed the battle to the enemy. One man or a pair might drop off a patrol, or creep forward to a hide, looking for targets. Troops relied on THEIR snipers to keep the enemy and HIS snipers at a distance. No commander had enough snipers, and the 'schools' turned good patrollers and shooters into efficient snipers. Any rifle built in wartime was used hard. If the sniper lost confidence in his rifle, the armourer had another As Peter Laidler discovered, during his post-war training, armourers continued to live by the mantle 'near enough isn't good enough but exactly right is near enough'. The sniper expected and relied upon perfection.
In recent years collectors have discovered the allure of collecting the No4 sniper rifle that has caused prices for good quality rifles especially with all Complete Equipment Schedule (CES) items to increase dramatically.
Consequently, there are some rifles of dubious background assembled using some mismatched or reproduction parts. The Latin saying, Caveat Emptor, has never been truer. Ian Skennerton advises, "Buy the rifle not the story". Luckily for collectors and historians the British arms manufacturers were prolific with their use of stamps that now help define the life history of a firearm.
So lets take a closer look at # R33857 No4 (T) Sniper Rifle
Full left and right hand views of No4 MkI (T) #R33857

[Click PIC to Enlarge)

This No4 rifle is one of 665,000 manufactured at Birmingham Small Arms' plant in Shirley. A few 1944 dated rifles have been noted with the 1943 style serial number using two letter prefixes such as AU and AV followed by four digits. Most observed 1944 serial numbers are in the 30xxx range. The first group produced early in the year had no letter prefix. The following prefix letters have been observed –A, B, C, D, E, F, G, H, K, L, M, N, P, Q, R – with others likely to be discovered in the future. This rifle was manufactured and date stamped right at the end of the year as some R prefixed rifles have also been observed dated 1945. The angular sling swivel on the takedown screw in front of the magazine is another sign the rifle was produced after September 1944.
If a rifle from two British factories (Maltby and BSA Shirley) was more accurate than average, it was set aside for No4 (T) conversion. Selected rifles had to have a MkI body, a Mk1 rear sight, a 5 groove barrel gauging at .301 inch, a split foresight block (although a small number of No4 (T) rifles observed have a solid foresight block) with both surfaces on the foresight blade undercut to reduce reflection, and be able to achieve a hand held group of 5 rounds in under 3 x 3 inches at 100yards.*For comparison the expected standard for No4 service rifles was a group of 6 x 4 inches at 100yards.
BSA Shirley stamped their 'M47C' code, the year of manufacture, 1944, and the rifles serial number R33857 on the butt socket. Prior to dispatching to Holland and Holland a 'TR' was also applied by inspectors to the bottom of the butt socket to indicate it had passed the selection criteria.
Left side of action showing scope and mount with rifle number stamped on the leg and on the action (partially removed during the pad fitting process). The T indicates a Mk III scope was fitted and the combination met all inspections.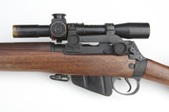 [Click PIC to Enlarge)
Holland and Holland's workmanship was scrupulously by the book and the quality of the sniper rifles is recognised by all authors as the definitive standard.* Theirs was the only UK-based factory for the No4 (T) except for 1400 (approx) 1930 's dated No4 Trials Rifles converted at the Royal Small Arms Factory Enfield.* Their first contract delivery was in November 1942 and the last in April 1946, likely using a 1945 dated receiver.*
The new arrivals were inspected and only those that met the standard (except it would seem where the rifle was fitted with a solid foresight block) were converted as the contract price did not allow for any swapping or up grading of parts.
The first step was to completely strip the rifle with all parts wired to suitably numbered ex P14 brass butt discs to ensure they were all able to be reunited at the conclusion of the conversion process. The left side of the action body was milled to create a flat surface. For this rifle the model marks, No4 MkI, disappeared leaving only its, barely visible, serial number R33857.
Thanks to Ian Skennerton and Peter Laidler we now have a very precise description of the steps involved in manufacturing and connecting the pads to the rifle. The front pad was sweated on and screwed in place with three raised head 4BA screws. The rear pad cut from a partially shaped steel bar was also sweated in place this time with two flat head 4BA screws. The pads were then machined on to the body to ensure they were parallel, both vertically and horizontally, to the bore. The front pad spigot was machined then drilled and tapped with a ¼ inch BSF hole. The rear pads top and bottom angular surfaces were machined exactly in line with the bore then drilled and tapped through the body as well with a ¼ inch BSF hole.
Staking the end of the 5 screw slots with a pin punch was an uncomplicated way to lock a screw head.* More than one stake per screw head, indicated the pad had been removed or replaced, either for repair or overhaul.* A single stake mark on all screws suggests this rifle was newly converted and not refinished.
The partially finished cast bracket manufactured by Dalglish and Son's Glasgow had a spigot machined on it that perfectly matched the spigot on the front pad. Following machining for the thumbscrews the bracket was machined and fitted with matched rings stamped 756 & 757 and No32 MkIII scope number 24860 purchased from Taylor, Hobson and Co. There were two other British manufacturers of the MkIII scope – Cooke Troughton & Simms and A. Kershaw & Son. MkIII scopes contained the new style anti backlash mechanism and an improved slipping scale drum. The red painted W signifies waterproofing and the blue painted B on this scope signifies blooming to improve light gathering properties during low light or poor visibility. It has 3x power magnification and an 8inch Field of View (FOV). The range and deflection increments are one Minute of Angle (MOA) which equates to one inch per click at 100 yards.
No 32 Mk III telescope manufactured by Taylor, Hobson and Co. The blue painted B indicates blooming to increase light gathering properties)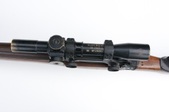 [Click PIC to Enlarge)
Right side of rifle and scope. The red painted W indicates the scope was waterproofed. Note the consecutively numbered mounts and the 'broad arrow' stamped leather scope covers. The S stamped on the flat indicating the iron sights did not need to be re-zeroed.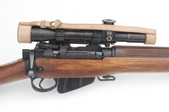 [Click PIC to Enlarge)
The scope was then collimated to the rifle to ensure the scope lined up perfectly with the bore. This 'mating' process matched rifle and scope for life. As the serial number R 33857 is stamped on the rear leg this would indicate this rifle was converted no earlier than towards the end of the war.
Left side butt socket showing BSA Shirley code -M47 C, year of manufacture - 1944, serial number - R 33857 and TR stamp indicating the rifle had passed the pre conversion selection criteria. Note the mottled finish left from the oil blackening finishing process.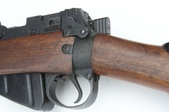 [Click PIC to Enlarge)
The battle aperture from the Mk1 back sight was removed to allow the scope to sit as low as possible and surface ground flat prior to blackening via a chemical brunofixing process. Unofficially these modified back sights are described as MkI/I. The 1/8inch 'S' stamped on the small flat on the right side of the body indicates after conversion that the iron sights did not need to be re-zeroed.
This rifle was then heated to red hot, around 740 degrees Celsius, then dipped in oil. The mottled finish on this rifle indicates that the oil caught fire during the cooling off process leaving carbonaceous material.
A dark stained beech wooden cheek piece was fitted to this rifles normal length butt measuring 12 ¼ inches using a 1 ¼ inch wood screw in the front and a 1 ½ inch wood screw in the rear. The Holland and Holland code 'S 51' was then stamped in ¼ inch letters on the bottom of the handgrip of the butt.*
Holland and Holland stamped their S 51 code on the underside of the butt at the end of the conversion process.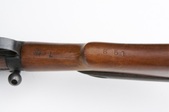 [Click PIC to Enlarge)
The scope number 24860 was stamped on the top of the butt wrist with the rifle number stamped in front of it hidden with in the butt socket.
Rifle serial number on the rear bolt face. At the end of the conversion process the Scope serial number was stamped on the butt wrist and the final Enfield examiners mark was stamped on the wrist.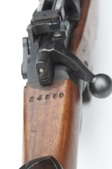 [Click PIC to Enlarge)
As all screws on this rifle bear no evidence of being touch by a screwdriver since conversion I am reluctant to disassemble the rifle. The English Walnut woodwork on this rifle also numbered R33857 still shows fine scratching caused during the cross grain sandpapering process at BSA Shirley.
Rifle serial number stamped along the underside of the bottom wood.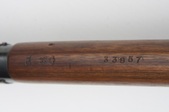 [Click PIC to Enlarge)
The rear sight and scopes were sighted in at 400 yards to 'guarantee' a body shot at any range out to 600 yards. With their renowned accuracy the No4 (T) was very capable of putting "round holes in square heads".
One of three Enfield Examiners examined rifle #R33857 and stamped a 'T' next to the ejector screw signifying a No.32 telescope had been fitted, and the combination had met all inspections.*A final examiners stamp was applied to the right hand rear of the action just in front of the scope number at the wrist. An examiners stamp in this position is only found on No4 rifles that were converted to sniper rifles. The last stage of the conversion was to assemble the accessories according to the Complete Equipment Schedule.*
No 15 Mk I Wooden Chest with 1946 dated Complete Equipment Schedule (CES) on inside of the lid and containing rifle, No32 Mk3 telescope, Scout Scope and lens cleaning handkerchief.

[Click PIC to Enlarge)
This No4 (T) has an unissued No15 Mk1wooden transport chest with leather handles (not rope handles as on converted Bren Chests) and metal No8 Mk1 scope case numbered to the scope complete with leather strap and 'broad arrow' stamped leather scope covers. The chest also contains a Scout Regiment Mk2 three drawer 22x spotting scope, a leather USA pattern 1907 loop sling and a green handkerchief Mk1 for cleaning the scope lenses.
Peter Laidler notes that a No4 (T) set can be considered complete if it contains any of the following spotting telescopes- Scout Regiment, General Purpose, Signaling and Admiralty Pattern-as they have all been observed in military service even though it was uncommon to actually find one in a chest.
No 8 metal scope tin with scope number painted on top of the lid.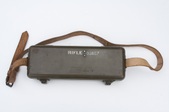 [Click PIC to Enlarge)
The butt has a MkII sling swivel to facilitate the use of the loop sling. In its butt trap is an as issued oil bottle and pull through. This completed No4 (T) rifle was valued at 8 pound with the scope, parts and labour accounting for about ¾ of that value.
Unissued oil bottle and pull through removed from butt trap.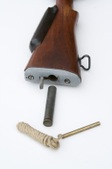 [Click PIC to Enlarge)
It is very possible that any sniper rifle found in good condition today was rebuilt more than once in its service life, and its unblemished finish covers the scars and bumps of hard knocks, parachute jumps and long cold nights in a hide.*Rifle #R33857 and most of its accessories appear from close scrutiny to be completely un-issued suggesting they avoided dispatch during the post war down sizing of military activity. As it is improbable this set was disposed out of service complete it is likely that all items other than the rifle and scope with matched numbers have been reassembled in to a set.
An un-issued condition sniper rifle is in a way an oxymoron as most No4 (T) rifles experienced a lifecycle of storage, issue, use, first, second and third line repair, along with modification programs.* The conversion to 7.62 x 51 NATO, also gave the British a way to extend the life of their .303 sniper rifles. But this is another story....
Part 2 (click here)
is about my other 1944 BSA No4 (T) that in its extended life was converted to an L42 A1.
References
From No4 Mk I (T) to L42 AI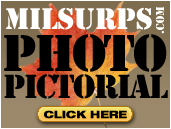 (12 picture virtual tour)
The British Sniper, Ian Skennerton, Australia, 1984. (http://www.skennerton.com)
An Armourers Perspective: .303 No4 (T) Sniper Rifle and the Holland and Holland Connection, Ian Skennerton & Peter Laidler. Australia, 1993.
British Enfield Rifles, Volume 2, Lee Enfield No4 and No5 Rifles, Charles R. Stratton, California, USA 1999.
Is my Lee Enfield Sniper Rifle a Fake? Terry Warner, Enfieldrifles, 2006. ("Is my Lee Enfield sniper rifle a fake)
Lee Enfield Story, Ian Skennerton. Australia, 2007. (http://www.skennerton.com)
Telescope Sight No32, An inside view of the Snipers rifle telescope, Peter Laidler, 4th edition, BDL Ltd, Edgefield, SC, USA. 2008
Collector's Comments and Feedback:
1.
Guns and Ammo Video Review on the L42A1
...... (Feedback by "Badger")