1954 Mosin-Nagant M52 Hungarian Sniper Rifle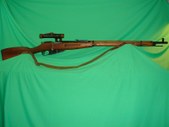 (Click PIC to Enlarge)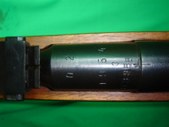 Originally Posted by :
Calibre: ....................... Russian Light Ball M'08; Bullet 148gr, Charge 48gr
Rifling & Twist: ............. 4 Grooves, Right Hand Twist
Muzzle Velocity: ........... 2850 fps
Barrel Length: .............. 28.7 in (729mm)
Overall Length: ............ 48.5 in. (1232mm) without bayonet
Overall Length: ............ 65.4 in. (1661mm) with bayonet
Weight: ....................... 11.3 lb (5.13Kg) without bayonet & sling
Magazine Capacity: ...... 5 round integral box
Scope: ......................... 3.5 power PU telescopic sight
Qty Mfg: ...................... Refer to Note #1 below under Collector's Comments and Feedback

Source: ...................... The Russian Mosin Nagant Page

Canadian Market Value Estimate: $
1954 Mosin-Nagant M52 Hungarian Sniper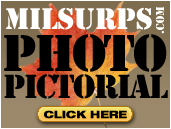 (76 picture virtual tour)
Observations:
Extracted from the
91/30 Sniper Page by Vic Thomas (click here)
Hungarian M/52 sniper rifles are the rarest examples of the PU family, and, since standard Hungarian 91/30 rifles are even rarer than their scoped cousins, the author is not aware of any counterfeit examples. They are readily recognized by their higher standard of manufacture, a deeper blue/black finish of all metal, and a profusion of "02" (apparently the Eastern Bloc designation for Hungarian manufactured weaponry) stamps on just about every component of the weapon - right down to the shaft of the cleaning rod. Unlike their Russian cousins, the author has found no evidence of any number being stamped on the left side of the chamber, likewise the scope mount components – which also display finer attention to detail during manufacture - are generally unmarked, save for customary "02" stamps.
The marking on the rifle's chamber are utilitarian – an 02 above the year of manufacture and then the serial number, which is generally two letters followed by four digits. To date the author has only encountered M/52 rifles with BC prefixes. Stocks of M/52 rifles inspected by the author in Australia have the customary 02 marking on the right side of the butt and are coated in a durable dark brown finish. There is also evidence of "blonder' – almost yellow – timber on unissued rifles in collections in the United States. Like the Russian rifles, the Hungarian stocks have a brass-reinforced "dog collar" sling mount slots. M/52 rifles can be fitted with an all leather sling, or webbing varieties in varying colours – again the 02 marking readily denotes their origin. Hungarian scopes are identical to the Russian PU optics except for the markings – on all examples seen by the author, all markings are in white with the scope number being a "41" (apparently an indication of Hungarian-manufactured optics, also seen on military issue binoculars), above a four digit year of manufacture, and then a serial. There is also another four digit number, indicating the serial of the rifle the scope was issued with. Hungarian M/52 rifles have been encountered with Russian manufactured scopes or mounts, but whether these came together in the various countries the weapons were exported to as military aid during re-build programs, or the components were fitted to rifles without optical sights by civilian collectors can only be conjecture.
Collector's Comments and Feedback:
1.
Extracted from the 91/30 Sniper Page by Vic Thomas (click here). "Due to the secretive nature of the Soviets during the Cold War era, the subsequent manufacture, and re-manufacture of the weapons by numerous satellite states, and the chaotic state of the former USSR since the Iron Curtain finally came down, definitive manufacturing figures for 91/30 PU sniper rifles are hard to come by. According to German author and respected Mosin Nagant rifle authority Karl-Heinz Wrobel, the Iszevsk arsenal produced 53,195 91/30 PU sniper rifles in 1942, and a total of 275,250 when manufacture ended in 1958, when 100 PU rifles were made. A small batch of 50 was apparently manufactured in 1948, and one 1947 example is known to exist, which is in Wrobel's collection. Numbers made at Tula, which only manufactured PU rifles in 1943 and 1944, are not known, although rifles from this arsenal are without a doubt much rarer than Iszevsk examples. Hungary only apparently manufactured 91/30 rifles from 1951-54, and the author has only encountered M/52 sniper variants dated from 1952 onwards, with the highest serial number recorded being 7700, which could be a reliable indicator of the number of the weapons produced."
..............
(Feedback by "Badger")