1944 No.1 Intermediate Shortened & Lightened Rifle
(Mfg by SAF Lithgow) - Serial #XP53 "Experimental"

c/w 1937 Web Pattern sling
(Mfg in 1941 by M.E. Co. - Mills Equipment Co., London)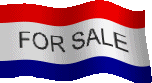 1944 No.1 Intermediate Shortened & Lightened Rifle (Mfg by SAF Lithgow) - Serial #XP53 "Experimental"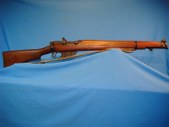 (Click PIC to Enlarge)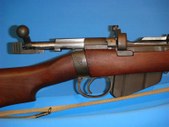 (Click PIC to Enlarge)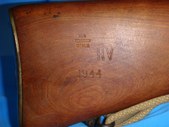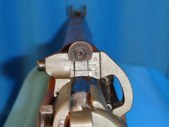 (Click PIC to Enlarge)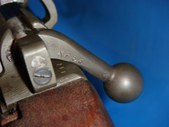 (Click PIC to Enlarge)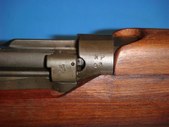 Caliber: ............................ .303 in., Mk VII Ammo
Rifling & Twist: .................. 5 Groove, Enfield, Left Hand Twist
Barrel Length: .................. 20.2 in (513 mm)
Overall Length: ................. 39.3 in (998 mm)
Weight: ............................ 8 lb 11 oz. (3.9 kg) (unloaded)
Magazine Capacity: ........... 10 rounds (magazine loaded)
Qty Mfg: ........................... 100 (Serial Number Range XP1 to XP100)

Source: .... The Lee Enfield by Ian Skennerton (2007) - ISBN: 9780949749826
Source: .... Small Arms Identification Series #19 by Ian Skennerton (2004) - ISBN: 0949749494

1944 No.1 Intermediate Shortened & Lightened Rifle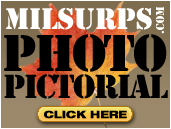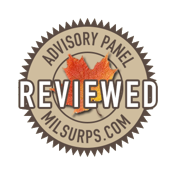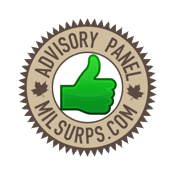 (138 picture virtual tour)
Observations: .... extracts from "The Lee Enfield" (Pages 347-348, 500) by Ian Skennerton
With thanks to Advisory Panel members
Lance
and
Wheaty
for their assistance.
Note: Pics of rifle provided courtesy of MILSURPS.COM member
~Angel~
.
While a few sample rifles of this basic configuration were fabricated in England, a batch of about 100 was produced in Australia in 1944 for Army trials. The serial numbers are preceded by
XP
and range between 1 and about 100.
The barrel and fore-end were shortened by 5 inches and the nosecap re-fitted. Except for the one-piece top handgrip with springs in the usual read handguard position and two longitudinal grooves on each side of the shortened fore-end, the furniture and fittings are generally similar to the service No.1 MKIII* Lithgow production model, but for the backsight. The aperture sight is mounted onto the charger bridge and has only two push-pull range settings, for 200 and 500 yards; a screw on the left side of the charger bridge regulates the tension on this sight.
The first 18 rifles were completed by March 6th, 1944 and the remaining 82 by the end of the month. Complete army trials did eventuate and most of the rifles were left in stores at SAF Lithgow. A similar model, two inches shorter, was also initially considered with different styles of backsight. Thus the sample shown here in this Knowledge Library entry was referred to as the "Intermediate" length. Sling swivels are of the standard type and placement, mounted on the butt and outer band.
A different bayonet was proposed for this shortened rifle, with a 10 inch blade. This particular design was later introduced for the Owen Machine Carbine, although the markings are a little different because the trials bayonets had no service acceptance, date or pattern marking; only the "X" bending mark and "OA" factory code.
Collector's Comments and Feedback:
1.
To give members some idea as to the rarity and market value of this collector's piece, read the thread in our Commercial Auction and Sale "Gossip" (click here) forum titled Reference Thread - Australian Arms Auctions - May 4th, 2008 (click here) .

This thread contains a post regarding one of these rifles (Serial XP45) that just sold at the Australian Arms Auctions on May 4th, 2008 for $7,000 AUSD
Lot 321 SCARCE LITHGOW EXPERIMENTAL NO.I B/A SHORTENED & LIGHTENED RIFLE: .303 Cal; 20.2" barrel; bore packed in grease; receiver ring marked m.a.lithgow smle iii* 1944; this rifle is new, unissued; all complete & orig with correct bayonet & scabbard. Only 100 of these rifles were made at Lithgow Small Arms Factory. Serial #XP45 L/R $3000 -4000
....... (Feedback by "Badger")

(Click PIC to Enlarge)
2.
The secret to creating and maintaining quality research data in the Milsurps Knowledge Library is you! This is your site and these MKL entries on various old milsurps are yours to add to, or change. The volunteers on the Advisory Panel (click here) can only do so much to vet and validate the information posted here, so please contribute as much as possible to help us present the most accurate and reliable data we can gather on these old milsurps. If you own a particular specimen of any MKL entry, then please send us pics of it, even though they may be duplicate views of pieces you already see here. In that way, we can build up multiple sets of pics for several milsurps of the same model, which will help in indentifying markings and authenticity. For example, in the case of this MKL entry of the 1944 No.1 Intermediate Shortened & Lightened Rifle, if you own one, we'd like to receive more pics of the stampings and serial number views as shown in the "Observations" section and various "Collector's Comments and Feedback" notes. ALL pics and information received will be treated with the utmost confidentiality and respect of your privacy. Thanks to everyone who has contributed so far, which is helping to make the Milsurps Collectors Forums a prominent site for serious collectors of all genres of old milsurp collectibles. .......
(Feedback by "Badger")